Engine parity key to RBR's Renault deal
| | |
| --- | --- |
| By Jonathan Noble and Pablo Elizalde | Friday, June 4th 2010, 09:34 GMT |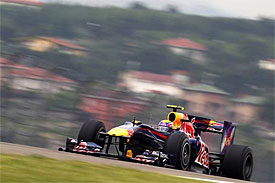 Red Bull team principal Christian Horner says moves to equalise engine performance are likely to be crucial in his team deciding to stick with Renault engines or not.
Horner, whose team was looking at a deal with Mercedes for the current season, believes the French power unit currently used by Red Bull is around 30BHP down on power compared to the leading units.
He is hoping teams will work on a solution to unlock the current engine development freeze, thus helping Renault get closer to the other engine suppliers.
"Renault as a partner are an excellent partner to work with, we have absolutely parity with the Enstone team," said Horner.
"The problem is, as it always has been, that under the current regulations, the way that the freeze currently is, you freeze in advantages and disadvantages, and you might think it is ironic that I sit here talking about an engine disadvantage despite having six pole positions and three wins.
"But I think it demonstrates the job the guys are doing with the chassis, they are doing a phenomenal job at the moment because we probably are 20-30bhp down on the class of the field.
"While we enjoy a chassis advantage at the moment, that might not be the case in two or three races times, and then the engine becomes a determining factor, and once you have frozen a product to freeze an advantage or a disadvantage for a three or four years period is unfair.
"The manufacturers need to get together among themselves and agree a formula to move forward."
Horner said his team was pleased with its partnership with Renault, and made it clear that, if the French manufacturer is allowed to improve its engine, Red Bull would be happy to extend the deal.
"We are very happy with the support we get from Renault," he said. "If the issues of parity can be dealt with, then there is absolutely no reason for change.
"I don't know if a Mercedes engine would be available - but the important thing is that the manufacturers get together among themselves and agree an acceptable tolerance where they are going to be."