| | |
| --- | --- |
| Costa: Rossi injury worse than thought | |
| | |
| --- | --- |
| By Michele Lostia and Pablo Elizalde | Thursday, June 3rd 2010, 10:51 GMT |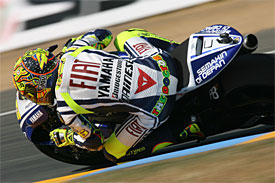 MotoGP doctor Claudio Costa says Valentino Rossi's shoulder injury is worse than most people believe.
"The situation with his shoulder has always been more serious than anyone thought," Costa told Motosprint magazine.
"First of all, the shoulder almost dislocated in the crash, and this has caused an instability, albeit a limited one.
"He has an inflammation of the bursas: what is known as periarthritis; there is a very important tendinitis at the long head of the bicep; and the cartilage is damaged in the area that completes the skeleton of the shoulder blade [glenoid cavity]. It's an important temporary disability."
Rossi injured his shoulder in a motocross accident in April and has been racing in pain since then, according to Costa.
"When he came back from Le Mans, Valentino told me that the situation didn't convince him, he wanted to further analyse the shoulder," he added.
"We did a magnetic resonance that revealed the situation, after which we established a plan. Valentino wants to race in the best possible conditions at Mugello.
"Valentino is not the type of person looking for excuses, but he is suffering. In fact, I congratulated him because seeing him with that kind of fighting spirit while remaining silent is a very nice thing."
Yamaha crew chief Jeremy Burgess says the injury has been slowing Rossi down in recent races, where he has been overshadowed by team-mate Jorge Lorenzo.
"The telemetry is clear regarding the way Valentino is forced to ride these days: he is forced to enter turns more slowly, he has to adopt an inefficient position on the bike and sometimes he rides one-armed, in order to rest the other arm," said Burgess.
"Valentino is suffering, this shoulder is a problem, so we are racing in a damage limitation sort of way.
"After the race I heard the usual silly talk on Valentino's crisis and the strength of his rivals. But the problem is just the shoulder, nothing else. That's what's slowing him down, in fact if I was in our rivals' shoes I'd make the most of it, because when Valentino heals, his races won't certainly be like these ones."