Red Bull says F-duct no distraction
| | |
| --- | --- |
| By Jonathan Noble | Friday, May 28th 2010, 08:12 GMT |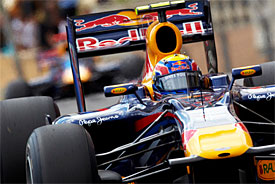 Red Bull Racing insists that its F-duct development push will not act as a distraction from its efforts to nail home the car advantage it currently enjoys at the head of the Formula 1 field.
As the upgraded RB6 featuring the F-duct took to the track for the first time in free practice at the Turkish Grand Prix on Friday, Red Bull team principal Christian Horner said his team would not allow itself to lose focus of its normal race-weekend efforts.
When asked by AUTOSPORT if the evaluation of the F-duct could act as a distraction, considering the RB6 is already the class of the field, Horner said: "Not really. That is why we have taken our time to introduce it.
"You can always rush components through, but if they don't do what they are supposed to, then it backfires. We have done a lot of R&D into it, and we feel we have a good lab and test environment understanding. Now, it is a matter of what it does on the track needing to correlate with the analysis that we have done.
"It was far from easy to bring the F-duct on to the car, especially with the homologated chassis. The McLaren system was clearly designed into its chassis, as I think the Sauber system was.
"So it has been a bigger challenge to integrate it, but the guys have done a brilliant job, and it is a work of art when you see all the components together. It is a complicated piece of equipment basically, and very clever, but questionable about the benefits."
Despite having had the fastest car all season and taken pole position at every race, Red Bull Racing only moved to the head of the championship standings after the last race in Monaco.
And although the team has been criticised for not having made the most of its performance advantage, Horner reckons his outfit has been no worse than its rivals in squandering opportunities this year.
"Ideally we would have won all six races [so far], but we had a spark plug issue in Bahrain, and a wheel nut issue in Australia, which were pretty much guaranteed victories," said Horner.
"But other teams have had their issues as well - Ferrari with engines, and McLaren with wheels. I think we have had a pretty decent win ratio - it was a 1-2 in Malaysia, a 1-2 in Monaco, and a 1-3 despite the issue we had in Barcelona. It has been an impressive start to the year, and often it is easy to forget that Red Bull is still a relatively young team.
"We are still a relatively small team compared to the likes of Ferrari and McLaren, who have been around a lot longer and have a lot more resource than we do. We have to make the best of the resources that we have, and think more creatively - and the guys are doing a great job in."
He added: "If you were Fernando, you could look at how many points he has given away as well. I think you have to look at the season as a whole.
"Despite the spark plug issue with Sebastian, we still salvaged fourth place there, which were valuable points, and despite the brake issue in Barcelona we still got a podium there. We managed to limit the damage.
"Others arguably have had equally damaging non-scores, be it Lewis in Spain or Jenson with the issue he had in Monaco - or Mercedes with wheel nuts also. I don't believe we've had any more issues than other teams and it is the end of the year that counts, not what has happened after six races."
Horner also reckons it would be a mistake for Red Bull Racing to ignore the threat posed by Ferrari and McLaren.
"Ferrari is the most historic team in F1, and McLaren has a tremendous track record and it would be foolish to underestimate their capabilities," he said. "I am really pleased with the job the team is doing.
"We are not losing our focus, we are concentrating on our own performance and we just keep our heads down, doing our thing and trying to bring performance to the car as quickly as we can."