ART aiming for 2011 F1 entry
| | |
| --- | --- |
| By Michele Lostia and Matt Beer | Wednesday, May 26th 2010, 08:33 GMT |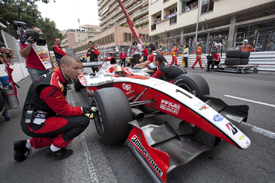 ART Grand Prix co-owner Nicolas Todt has confirmed that the multiple GP2 and Formula 3 title-winning team has applied to enter Formula 1 next season, but admitted that being ready for 2011 would be a huge undertaking if its bid was accepted.
Todt told Italian magazine Autosprint that while suggestions ART was among the 2011 applicants were correct, the team had no expectation that it was likely to be selected.
"The news that we have proposed ART is real, but at the moment it's just a request, there is no certainty we'll take the start next season," he said.
"Realistically, I think it won't be easy to take part in the 2011 F1 championship, because it's not easy to set up a programme with very high costs.
"In light of this, I didn't want to make bold statements over something that still needs to be defined. If we don't make it, then it won't be a drama. We'll carry on working over this project, and if it doesn't happen next year, then we'll try again in the future."
He said ART had always eyed F1 as its long-term destination given its relentless success in the feeder categories, but he had preferred to keep its ambitions low-key and did not want to risk harming its other programmes.
"We are ambitious, and obviously after having won a lot in the various series we've taken part for years, you want to go on and do better," said Todt.
"After F3 and GP2, the logical step is F1. The big difference is that it's a gigantic step, and we are aware of the difficulty with this challenge. That's why I've never announced we'll be in F1, I don't like to get visibility when I'm not certain of the programmes, because I don't want to be regarded as a person who only talks.
"We are working with great care on a project, we don't want to damage what we've done to this day over the years. The plans include synergies, but we don't want to damage the team that works in GP2, GP3 and F3.
"We want to enter F1, but only if we manage to have a long-term programme, because even though F1 now costs 30-35 per cent less compared to a few years ago, it nevertheless remains a huge challenge for privateers."
Spanish squad Epsilon Euskadi, Serbia team Stefan GP and ex-GP2 outfit Durango are among the other teams vying for a possible 2011 F1 slot.
Todt has close links with with his father Jean's former team Ferrari, and his protege Jules Bianchi is part of the Italian squad's driver development scheme. But Todt played down the chances of an ART F1 project being a partnership with Ferrari.
"I have a great relationship with Ferrari, I highly esteem Stefano Domenicali," he said. "If we get chosen and we get a chance to work with Ferrari, then it will be great, but the truth is that there's nothing at the moment.
"We are also a Mercedes team in F3, so it's easy to also link us to Mercedes, and we have other links too. But the truth is that there's nothing yet."
He conceded that there was potential for a conflict of interest given that his father is now the president of the FIA.
"I know well that there are people who see this situation in a bad light," Todt admitted.
"First of all there is a commission evaluating the requests and making decisions, so it's not just my father's choice. I think we'll be under the eye of many people, so the truth is that, as ART, we'll have to present an even more solid programme than our competitors, because at our first faux pas we'll risk being criticised more than the norm.
"But this isn't a new situation for me. When [protege] Felipe [Massa] went to Ferrari, some people put it down to my father's presence there. There will always be people judging my work in relation to my father's presence, and I've accepted this.
"If I couldn't stand this I would have changed environment, but I don't want to leave something I'm passionate for because my father works in it and I've had a lot of success that will be difficult to repeat."