Chandhok: Willis key to HRT's future
| | |
| --- | --- |
| By Jonathan Noble | Tuesday, May 25th 2010, 14:32 GMT |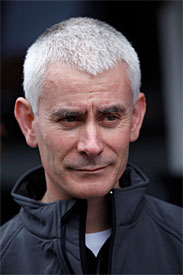 Karun Chandhok thinks that HRT's technical consultant Geoff Willis is key to seeing the team make the progress it needs to from now on.
Willis was drafted in at the start of the year as an advisor to help the team get in shape to make it on to the grid, and he has remained on board as HRT works on making improvements to its chassis.
Chandhok is adamant that both his own F1 future, and that of the team, will be decided by how much Willis is able to get on and lead progress with the car.
Speaking about how he sees the next few months panning out, Chandhok told AUTOSPORT: "As long as there is a car in the pitlane and my seat in it, I will go drag the arse out of it.
"I have to look at it with a slightly long-term view. If the team improves I would love to be here, and if they can give Geoff the opportunity and budget to build a good car for 2011, he could do a good job.
"He has done it in the past, he has a capable team of aero people that he is pulling together from other teams and, if he does have the right financial possibility and the right infrastructure, it won't be a bad place to be next year.
"I want to be in the best possible place for 2011, and I reckon this team has the potential if Geoff is given the right opportunity - he is key to where we go."
Chandhok says he is giving his all for HRT – and is pleased with the job he is doing considering the circumstances of the new team's birth.
"At the end of the day, you give me a car that is capable of doing a certain lap time and my job is to do that lap time," he said. "And as long as I am quicker than Bruno [Senna], as I have been so far, and people see that I am doing well in the car, then it is good for me.
"They put Christian Klien in the car in Spain and within three laps I went quicker than him, with the same tyre and same fuel. So you can argue all you want, but I feel I am extracting the maximum I can out of this car.
"It is really down to the team to develop it. There is only so much I can do."