Vitaphone wins Brno qualification race
| | |
| --- | --- |
| By Kevin Turner | Saturday, May 22nd 2010, 17:00 GMT |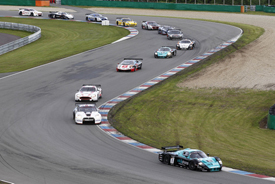 Vitaphone Maserati drivers Michael Bartels and Andrea Bertolini won the GT1 World Championship qualification race at Brno this afternoon.
Bartels led from pole and pulled out a lead of over 10 seconds before the pitstops began. Bertolini continued the good work, despite a charge from Young Driver Aston Martin driver Tomas Enge, to win by nearly five seconds.
Behind the reigning champions, local hero Enge took second. Peter Dumbreck had jumped Enge's co-driver Darren Turner at the start, as both made their way past front row starter Miguel Ramos on the opening lap.
Despite appearing faster than the Nissan, Turner could not get by and came in early to hand over to Enge. The Czech set the fastest lap soon after coming out of the pits and jumped the Nissan when Dumbreck came in to hand over to Michael Krumm.
Krumm's pace was impressive, often being the fastest man on the track in the second half of the race, and he finished well clear of the Dominik Schwager/Nicky Pastorelli Lamborghini Murcielago.
The battle for fifth was closer. After his poor start Ramos ran fifth, chased by the MC12 of Altfrid Heger, but both lost out during the pitstops. Xavier Maasen's Mad-Croc Chevrolet Corvette (started by Mike Hezemans) and Romain Grosjean (started by Thomas Mutsch) rejoined ahead of Ramos's partner Enrique Bernoldi.
Maasen lacked Grosjean's speed, but was able to keep the ex-F1 racer behind. Their fight allowed Bernoldi and Frederic Makowiercki (in the Hexis Aston Martin started by Peugeot LMP star Stephane Sarrazin) to close and the four took the flag together.
Vitaphone's result means that Bertolini and Bartels have taken the lead in the title fight heading into tomorrow's main race, for which they will start from pole.
Pos  Drivers                 Team/Car                 Time/Gap
 1.  Bertolini/Bartels       Vitaphone Maserati   1h00m09.205s
 2.  Enge/Turner             Young Driver Aston       + 4.608s
 3.  Krumm/Dumbreck          Sumo Power Nissan       + 11.312s
 4.  Pastorelli/Schwager     Munnich Lamborghini     + 19.652s
 5.  Maassen/Hezemans        Phoenix Corvette        + 25.755s
 6.  Grosjean/Mutsch         Matech Ford             + 26.372s
 7.  Bernoldi/Ramos          Vitaphone Maserati      + 26.442s
 8.  Makowiecki/Sarrazin     Hexis Aston Martin      + 27.388s
 9.  Hirschi/Piccione        Hexis Aston Martin      + 38.563s
10.  Bobbi/Longin            Triple H Maserati       + 39.274s
11.  Mucke/Nygaard           Young Driver Aston      + 39.955s
12.  Wendlinger/Moser        Swiss Nissan            + 46.564s
13.  Margaritis/Heger        Triple H Maserati       + 47.177s
14.  Basseng/Jager           Munnich Lamborghini     + 57.793s
15.  Ara/Nilsson             Swiss Nissan            + 58.160s
16.  Leinders/Martin         Marc VDS Ford         + 1m20.927s
17.  Rosina/Hennerici        Phoenix Corvette      + 1m23.343s
18.  Palttala/Kuppens        Marc VDS Ford         + 1m26.647s
19.  Salo/Kuismanen          Mad-Croc Corvette     + 1m36.462s
20.  Kechele/Danis           Reiter Lamborghini    + 1m40.271s
21.  Hughes/Campbell-Walter  Sumo Power Nissan         + 1 lap
22.  Frey/Allemann           Matech Ford               + 1 lap