Lotus set to shift focus to 2011 car
| | |
| --- | --- |
| By Jonathan Noble | Thursday, May 20th 2010, 10:33 GMT |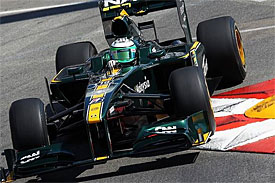 Lotus has elected to shift design focus onto next year's car in the hope that the head-start on its 2011 challenger will help it surprise the opposition.
The Hingham-based outfit has made good progress with its T127 this season, with a major aerodynamic upgrade introduced at the Spanish Grand Prix helping the outfit close down the gap on the established outfits.
And although the team plans to introduce another update for the British Grand Prix, Lotus' technical chief has confirmed that the priority now is to get on with ensuring it does as good a job as possible for 2011.
"We still have stuff coming through and there will probably be a package for Silverstone, but now we are very much concentrating on 2011," Gascoyne told AUTOSPORT. "The 2011 model is going in the wind tunnel soon.
"This year we were always going to play catch up. Next year, with the big rule changes, it levels the playing field and we need to put our resources into that. So we want to keep pushing, but we want to look at next year as well."
With the limited time frame that the team had to create its 2010 car, having only been given the green light for its entry six months before the start of the season, Gascoyne admits that the team had to focus on simply getting its challenger ready for this year rather than pushing it to the design limit.
And although he thinks further improvements can be made to the T127, he reckons that resources will actually be better spent focusing on 2011 because there is little hope of overhauling the current teams in the points' table.
"We want to get 10th [in the Constructors' Championship] and realistically, even if we made the car better, would we get ninth or eighth? Probably not.
"Therefore is it worth putting resources into that, or switching them to next year? There is also the commercial aspect you want to be seen moving forward this year, but we want to take some people by surprise next year."
He added: "We are still testing in the wind tunnel and there are bits in production that are coming through, so we are not stopping now.
"We are also taking weight out of the car. We don't have carbon suspension on the car, that will be coming through for Silverstone, and that will obviously carry over to next year. We are pretty happy with where we are."