Monaco delivers sponsor tonic for F1
| | |
| --- | --- |
| By Jonathan Noble | Friday, May 14th 2010, 16:01 GMT |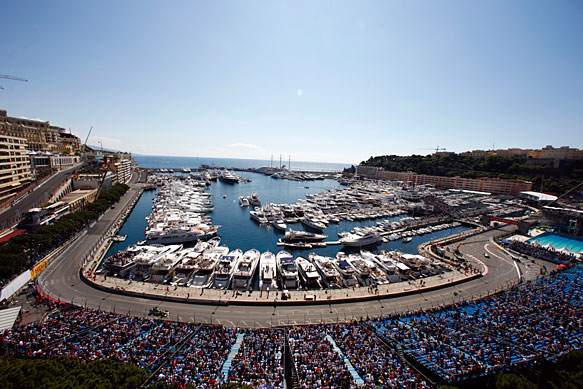 The credit crunch may have forced Formula 1 to abandon for good the big bucks spending of recent years, but this weekend's Monaco Grand Prix has delivered cause for optimism that the sport and teams have finally turned the corner in shoring up F1's commercial future.
The worldwide financial crisis of the last 18 months put the teams and the FIA on a collision course about how to bring about much-needed cost cuts, with that having a negative impact when it came to attracting new companies into the sport.
Although F1 generated huge television audiences (1.7 billion viewers last year) and media exposure, with leading analysts IFM Sports Marketing Surveys putting F1's global television exposure value for 2009 at $4.8 billion dollars, teams found it almost impossible to attract fresh sponsors.
And worse than that, they also faced difficulties in keeping hold of those that had willingly supported it in the past - be it title sponsors like ING who walked away before the end of its deal last year, or even manufacturers like BMW and Toyota.
On F1's blue riband weekend this year, however, the feeling in the paddock is that the sport can be more bullish about its situation than it has been for a long time - with teams concluding deals with sponsors totally new to F1, and finding a market out there that is more willing to listen to the sport's representatives.
This season F1 has welcomed in more than 25 new and returning brands – ranging from major brands like HP, Lada, CNN and Burger King to newcomers like TW Steel, Full Tilt Poker and the Tune Group – in a move that sees the sport finally attracting more backers than it is losing.
Lotus team owner Tony Fernandes is confident that the tide has turned in F1 sponsorship terms after several difficult years.
"I think so and that is one of the reasons why I came into F1," he told AUTOSPORT. "You smell an opportunity sometimes and, when everyone is saying that is the end, I am generally a contrarian and I think: 'oh there must be an opportunity here'.
"I think F1 is still very popular, I think it is finally engaging more and reaching out to new types of sponsors and reaching out to new media. I think it is a turning point and I think it will start attracting new names and big names."
F1's sponsorship model has changed over recent years though – as some teams look at business-to-business (B2B) deals rather than straight marketing opportunities.
Yet, despite team owners like Genii Capital being especially keen on the B2B front, there is clearly still plenty of room for companies to get huge media coverage out of F1, which can then have the knock-on boost in terms of sales.
The recent F1 Racing fan survey done in conjunction with LG and the Formula One Teams' Association (FOTA) gave a clear indication from the sport's followers that their spending patterns were influenced by sponsors' exposure in F1.
When fans were asked if they were more likely to purchase products from companies or brands that sponsored teams, 6.8% of respondents said they were less likely to buy products, whereas an overwhelming 56.3% said they were more likely.
The positive feedback was much greater in the important markets of Asia (65.8% positive) and America (70.3%)
In response to a question about whether fans thought more highly of companies that sponsor F1, 54.1% said yes – against 9.5% who said no.
Fernandes reckons that such a message from fans showed that companies were able to get good exposure – especially considering the value of the some of the deals available.
"I personally think that the age of just having stickers on the car is finished – you have to deliver value," he said. "You only have to look at TW Steel. I think it has done very, very well out of its relationship with F1.
"So I think it is going to be a mix of pure branding and people who want to be associated with a team for coolness, or accessibility, to build their own brand, or for people who are looking to F1 to help grow their business."
Watch maker TW Steel began its sponsorship deal with Renault at the final race of last season, and it has seen a huge surge in sales of a back of its motorsport sponsorship involvement – which began originally in A1GP.
Stewart Bain, chief commercial officer of TW Steel, told AUTOSPORT that his company's move into F1 with Renault had exceeded expectations.
"It was definitely the right time to do it," Bain said. "I think that TW Steel has made a very, very good impact in its first steps in F1. How does that transpose to us? In selling more watches.
"Since we launched the Renault collection at Basel, we have had an instant demand for it. The instant demand was based on taking F1 to the consumer, and we created a watch that people wanted to buy, was affordable and good looking.
"Renault recognised that, and I think that the demand for TW Steel is built on the opportunity of what the brand is all about and it fits very nicely to what we are trying to achieve. I think the tide for sponsors is definitely turning. But it had to."
But despite the good vibes on the sponsorship front, leading figures in the paddock still believe that the sport has to adapt more to what companies want if the influx of sponsors is to continue.
Virgin Racing's marketing director Jim Wright has helped bring new sponsors to his outfit this year – such as Full Tilt Poker, Oxigen Investments, UST Global and Clear Shampoo – but reckons the commercial market for teams is changing.
"I think that the teams are realising that selling media space on the car is very difficult because it is a high risk sell," said Wright, who has previously worked at Williams and Scuderia Toro Rosso.
"These days with copious data available to all marketing directors about the share of voice that each team gets and each sponsorship position gets, you are quickly able to work out of this is a good bet or not.
"But there is a little bit more confidence in the market place, and people are starting to spend a bit more. We as teams are also getting a bit more sophisticated, more adaptable and more strategically aware of what companies need and how we can go about it. People are also driving very hard bargains so you have to have that in mind as well."
He added: "F1 still needs to work harder on appealing to the consumer market place, we still don't have many fast moving consumer goods as sponsors – we don't have M&Ms, we don't have 7-Eleven.
"There is a reason for that – and the reason is that we are not going out and pitching to those companies in the way they want to be pitched to. I think they are all aware of F1 but I don't think we are selling ourselves well in that area at the moment, we could do better."
It is clear that F1 can still improve when it comes to pulling in the sport, but at least the feeling in Monaco is that a return to the good times are now just around the corner.