Alonso: Ferrari tyre approach is right
| | |
| --- | --- |
| By Jonathan Noble | Thursday, May 13th 2010, 08:17 GMT |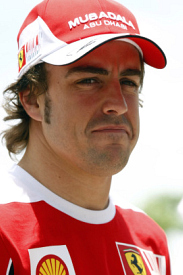 Fernando Alonso thinks Ferrari has taken the right approach with the way its car uses it tyres - even though he and team-mate Felipe Massa cannot extract the single-lap speed out of their rubber like the Red Bull Racing cars.

Red Bull's qualifying advantage is being put down to the way that the RB6 is better able to use the soft tyres on a single lap - with its advantage not so obvious over longer race runs.

Although Alonso is aware of how the Ferrari's characteristics do not help him and Massa in qualifying, he thinks the way the F10 is so kind on its rubber is still ultimately better.

"We take care of the tyres a lot on our car, which is good for the races," said Alonso in Monaco. "The difficulty is the warm-up for the first lap - and maybe we suffer a bit more in the area.

"But there are some grands prix where the degradation in the race is high and in those circumstances we have some advantage because our car treats the tyres very well.

"I am very happy with how the car is working its tyres. We know some weekends it will be a little bit more difficult and Felipe and I are working very closely together to try to understand what to do on some weekends, and what not to do on other weekends."

Alonso believes the characteristics of Monaco will not favour Red Bull as much as other tracks, which he thinks could be a boost to his own chances of success.

"Here it is such a different circuit, a very unique venue, that the performance that we see in the first part of the championship is not so important when you arrive to Monaco," he said.

"There are maybe some cars that are not super quick in some races, but here they can deliver some good performance. I expect a strong weekend from our side, I expect a good preparation for the grand prix and hopefully we will make the tyres work as well.

"Overall I don't think we can say that Red Bull are favourite here. They are quick - if you arrive to Turkey, to Silverstone, to Canada, you can say they are favourites there, but here in Monaco it is difficult to say that."