Whitmarsh backs Bridgestone U-turn
| | |
| --- | --- |
| By Jamie O'Leary and Pablo Elizalde | Tuesday, May 11th 2010, 13:35 GMT |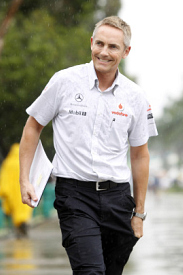 McLaren boss Martin Whitmarsh says Formula 1 would benefit from Bridgestone staying in the sport after the end of this season.
The Japanese tyre supplier is expected to leave Formula 1 at the end of the year, but teams and the company's F1 bosses are pushing to try to convince Bridgestone's heads to stay in grand prix racing after all.
Whitmarsh admitted a U-turn by Bridgestone would be good for the sport, as it would provide stability.
The McLaren chief also insisted that a quick decision would be welcome by everybody.
"I think you have to be aware that the Bridgestone board has made a decision to withdraw," Whitmarsh said. "Anything that might result in them staying in the sport would be a U-turn from them. It would provide stability if they decided to stay in the sport.
"I don't think individually the teams can influence them, and nor should they try. I think the sport has to demonstrate to Bridgestone that we're working together on a number of fronts including being pragmatic on the regulations that influence tyres and their use.
"We have to be pragmatic about the rules to ensure that they can perceive staying in Formula 1 to be a green or environmental challenge. And they have to believe that Formula 1 is heading in the right direction in order for a company such as theirs to continue to be involved or associated with it.
"Clearly there are a number of voices within the organisation pushing to remain in the sport. I think we have to see what happens for both the sport and the tyres. It would be a benefit if a decision was reached quickly."
And Whitmarsh admitted it would be 'sad' to lose Bridgestone.
"I think losing any long-term technical partner technical partner from the sport is sad. Clearly some consistency in the supplier would be a good thing. Fortunately, we have a number of companies who are interested in being involved in Formula 1.
"We have to encourage the offers to come forward as they are, and then try and collectively, with the FIA and the rights holder and the teams, try and make the best decision for Formula 1."