Q & A with Christian Klien
| | |
| --- | --- |
| By Jonathan Noble | Saturday, May 8th 2010, 10:55 GMT |
Christian Klien returned to Formula 1 action on Friday after being signed as Hispania's third driver.
And the Austrian immediately realised the Dallara-built car has major issues.
AUTOSPORT talked to Klien about how he got his drive and about the performance of the car.
Q. What was the situation with your superlicence before Friday's session?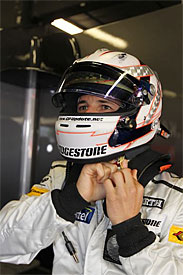 Christian Klien: It was a last-minute thing. We were waiting for Jean Todt's signature, as he had to approve that it was okay from his side. You have to send the contract and everything to the Contract Recognition Board, and that was there on Friday morning.
So, they had a look through it and then it went on to Todt. He had to sign it but he was in a meeting from 9am to 10am, but luckily at 9.50am we got the okay from the FIA side, and just two minutes before the session it arrived to Charlie Whiting!
Q. Was there also an issue about whether you were still contracted to BMW Sauber?
CK: Yeah, that was something that the CRB had to check. They check all the contracts of the drivers, and if I don't have another contract with another team then I can sign. That is a normal procedure. Normally you need to ask for the superlicence two weeks before the event, but I signed the deal on Tuesday so we were just two days before here. It was a bit tight and luckily the FIA worked quickly, and gave me the opportunity to drive here straightaway.
Q. How did it feel to get back in an F1 car?
CK: That was obviously good, especially to be in the car in the race weekend again. Of course, it is a small step. It is a new team and the car is at the back of the grid, but the team asked me to drive for them more or less to give feedback to the engineers - how the car compares to a BMW and a Honda. Obviously this quite is not quite on an F1 standard – there is just a lack of downforce big time that the car has. Also the small details on the car are not as good as the top cars, so it is quite easy to get in the car and tell the engineers many things on where the other cars are better.
For me it was quite clear after the first 20 laps what the major problems with the car were, and hopefully with more and more feedback we can improve the car. I think even without putting new stuff on the car there is still lap time in the car. I think half a second to one second, for sure, just by working more on set-up things. The electronics too, to help make the car more driveable because it is quite hard on track – it's difficult to be consistent.
Q. How is the power?
CK: Well I was on a practice engine mode of the Cosworth engine, which I think is 50 horsepower down. I did one lap on race engine mode basically. The engine feels okay. I don't think the engine is the major problem, definitely not. It is more the chassis.
Q. Can real progress be made with this car in the short term or is it so much work that you will be better off focusing on next year?
CK: The question is how much money you want to put in this car. It is quite clear that you are not going to win anything with this chassis, so you need to build a new car from scratch basically. But the season is still quite long, and the team – at least I got that feeling this week – they still want to improve this car. And I think there is half a second to one second in this car that you can improve without putting expensive new parts on the car.
Q. Do you think it is a bit of a career gamble for you to come in a reserve driver with a team at the back?
CK: During the winter time I was in talks with Sauber and Renault, but it just didn't come together. Then, in the end, you have to drive a car in F1 and if you drive it on a race weekend it is even better so the people can see what you are going to do. You also get in the media, which is most important for getting back to a race seat. If you see it from that side, it was a good step to have one leg in F1. It is a small step, it is a backmarker, but at least you are in.