Ferrari F-Duct to stay on for weekend
| | |
| --- | --- |
| By Jonathan Noble | Saturday, May 8th 2010, 09:15 GMT |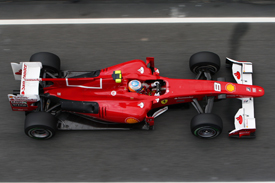 Ferrari will keep its F-Duct device on for the rest of the Spanish Grand Prix weekend after encouraging results from testing during Friday practice.
Both Fernando Alonso and Felipe Massa's cars were fitted with the blown rear wing concept for Saturday's final free practice session, with the team believing that the design does bring the drivers an advantage.
Ferrari's technical director Aldo Costa said that Alonso and Massa had experienced no problems on Friday in operating the device, which helps stall the rear wing for an added straightline speed boost.
"In our case, the modifications are on the bodywork, linked to the rear wing, so there is a direct link with the behaviour of the diffuser itself," he said.
"It's a system that has been studied to improve the performance of the rear wing in some conditions. In terms of driver practice; drivers, as you know, are trained to use several systems in the car.
"They normally use the front flap adjuster, they normally use brake balance. Last year they used the KERS system, so they can also use the F-duct with no big issues."