Schumacher relaxed despite slow start
| | |
| --- | --- |
| By Edd Straw and Pablo Elizalde | Thursday, May 6th 2010, 16:19 GMT |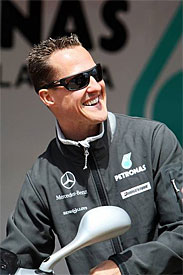 Michael Schumacher says he is still completely relaxed about his performance despite a slow start to the season.
The German, returning to racing after a three-year break, has so far been outperformed by Mercedes team-mate Nico Rosberg, who has scored 40 points more than the seven-time champion in the first four races.
But Schumacher, 41, insists the progress of re-adapting to Formula 1 is going as planned and is fully confident he will be up to speed as the season progresses.
"I think if you sort of look at what has happened is that, in China certainly, my performance hasn't been good," Schumacher told reporters in Barcelona.
"I'm very optimistic that things will go in the right direction. I'm pretty relaxed about what's going on. I know that the car is not perfectly suited to me right now, but I haven't expected to come here and blow everybody away. It's a process and the process is going absolutely good."
He added: "The cars are what they are and you have to find the way to drive around them. That's how it was in the past and that's how it is now. We have probably been limited in what we could have been doing but as I said, I never expect to come into a completely new structured and to sort of restart where I had finished in Ferrari.
"It's a process and I'm absolutely confident that that process is going in the right direction.
"Even in the moments where I was successful I had various moments when things weren't going too well and I was criticised similarly. It's a natural situation. So you have to stay calm and focused on what you know."
Schumacher, whose team is introducing several updates for this weekend's race in Spain, downplayed the changes, saying the car is not a new one.
"I'm afraid it's not a new car, quite honestly. There are a couple of new bits and pieces on it to make it quicker. I guess you have heard about various things, certainly the wheelbase is a bit longer and we have some aero updates. Those are the main two factors that we are bringing here."