Montezemolo: Livery claims nonsense
| | |
| --- | --- |
| | Tuesday, May 4th 2010, 08:43 GMT |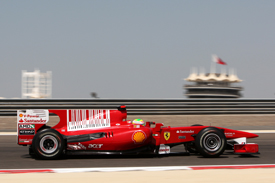 Ferrari president Luca di Montezemolo says suggestions that his team's livery is using subliminal Marlboro advertising are "verging on the ridiculous".
A report in The Times newspaper last week said medical figures had called on governments to look into the use of the barcode that has replaced the Marlboro livery on the Italian cars.
The Maranello squad had already responded to the report, criticising the suggestions.
Now di Montezemolo has also hit out, labelling the reports as nonsense.
"Frankly, I find this argument completely pointless and it is verging on the ridiculous to claim that the colour red or a graphic design which shows a bar code could induce people to smoke," di Montezemolo said on Ferrari's website.
"At a time when, on the other side of the Atlantic they are fighting to provide a more equal health service, in the old continent of Europe, so called experts are racking their brains to come up with theories that have no scientific basis: I think there are more important matters to think about than a bar code.
"Therefore, it's best not to waste any more time replying to this sort of nonsense or to those who are instrumental in wanting to stoke up the story."