McLaren not satisified with MP4-25 speed
| | |
| --- | --- |
| By Jonathan Noble | Monday, April 26th 2010, 11:05 GMT |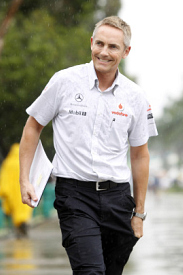 Martin Whitmarsh insists that McLaren cannot be satisfied with the speed of its car, despite leading the world championship standings heading into the start of the European season.
Although the Woking-based outfit has made the most of the opportunities that have come its way in the first four races, with Jenson Button's two victories helping him lead the drivers' standings, team principal Whitmarsh thinks there is plenty of work to do to extract more pace from the MP4-25.
"There is no secret that we will keep pushing," said Whitmarsh, who is well aware that Red Bull has secured pole position at every race so far.
"We have a new package that we are bringing for Barcelona and for every race we have demonstrated over the years that we can improve the car, race on race, and that is what we have got to do.
"All the teams will be doing that and we just have to do it at a quicker rate. We are closer than we have been, we are not satisfied with the car, and we have to improve it and have to make it quicker."
Whitmarsh also admitted that his team was left slightly frustrated by the way Formula 1's ride-height control controversy panned out - having been given the go-ahead to develop its own version prior to the FIA outlawing it after the Malaysian Grand Prix.
"It was understood some time ago by previous rulings that you could not have specific parts that move in relation to the sprung mass which have influence on the aerodynamics of the car," he said.
"From that we were given that you could not have parts in the suspension system that moved the ride height, but we sensed that maybe some teams were taking advantage of that capability, quite possibility legitimately. We enquired with the FIA and we were surprised when we were told that such systems were legal.
"On the basis of that, we started to develop such systems and we intended to have such a system in China. Then, before the race, we were told that the FIA had reconsidered that position and that such systems were no longer legal - so we had wasted a bit of time.
"We are not trying to be critical of the FIA, because in fairness Charlie [Whiting] and the FIA have 12 teams diligently pestering them trying to get rulings, twists and turns in the regulations and interpretations, but I was surprised when we had a positive ruling, and delighted because we are about creative engineering and we enjoy those sort of challenges.
"So it was shame we could not introduce it, it would have given us a little bit of an advantage but we couldn't do it, so we move on. That is the nature of it. The FIA has to make difficult decisions. It can always do things better, but it would have been nice if we had had a clear no at the outset but we didn't."
Despite being forced to abandon its suspension plans, Whitmarsh says there is still plenty of scope for McLaren to bring more pace to its current car.
"We can generate more downforce, we can bring on more aerodynamic efficiency, we can make is less sensitive, we can make it lighter, we can do all those things. That is our job and that is what we enjoy chasing and pursuing.
"If every now and again the regulations throw up an unexpected opportunity, we will jump on it. This [ride-height affair] momentarily threw one up, we jumped on it but ultimately couldn't exploit it."