Q & A with Christian Horner
| | |
| --- | --- |
| By Jonathan Noble | Monday, April 19th 2010, 15:49 GMT |
China was another promising race that turned into a disaster for Red Bull Racing, which left Shanghai with a sixth and an eighth place despite starting from the front row.
Team boss Christian Horner reckons, however, that there are still a lot of positives to extract from the first part of the season.
AUTOSPORT talked to the Red Bull head after the Chinese GP.
Q. Was China effectively a repeat of the Australian Grand Prix circumstances?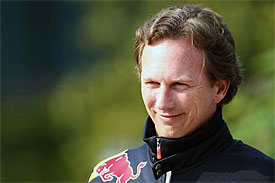 Christian Horner: The problem with the weather was that it was very intermittent. The problem when you start first and second is that you have got more to lose than others. Fernando [Alonso] obviously jumped the start significantly, Mark had a good start and both drivers were adamant that they needed intermediates and it was too wet for slicks. So we decided to stack them. Unfortunately Mark whacked the front jack man, damaging his front wing and the jack which then had to be replaced. That cost him time and ultimately Seb time at the first pitstop.
But their pace then was respectable. They then started working their way back through the field and then the second stop with Sebastian, he closed right in on Lewis and I was quite surprised as it looked like a marginal pit release from McLaren to put him alongside Sebastian. Then they caught [Adrian] Sutil rapidly, Sebastian went to the left and Sutil went in deep, gave him a touch with his front wing and Lewis managed to scramble past.
We lost too much time behind the Force India at that point, and then the rest of the race was that the tyres weren't going to last the distance, so we went onto the inters early to try and catch up further ground. We took a big chunk out of [Robert] Kubica but unfortunately looking at his gearbox for those laps hammered the front tyres too much and they went over the cliff.
With Mark, on the inters, he was one of the first ones having been pushed wide at the restart and lost a lot of ground, it leapfrogged him back up to what was ultimately eighth place so that was the right call. A far from straightforward race in very tricky conditions, and sixth and eighth is still very valuable points. It is just obviously frustrating, that with a straightforward dry race today I don't think the opposition would have seen us.
Q. You have had a lot of wheel issues at various points over the first four races, is there a fundamental design problem or is each problem something totally different?
CH: They are separate. The problem is that Mark stopped so far long on his first stop that he took out the front jack. That then controls all your release lighting and so on. You are on the back foot. I think they did eight stops today and I think five of them were trouble-free and three of them we had an issue with. I don't know what Lewis' issue was, because he came in ahead and we were effectively alongside and ahead when they released him.
Q. You've had the fastest car in the first four race, but the team with perhaps only the third fastest car is leading the championship. What lessons do you take out of these first races and what has to change to kick start your world title campaign?
CH: We know we have a fast car. I think in conditions like in China it is not just about strategy, there is a degree of luck involved. And when you start seventh and eighth you have less to lose and more to gain. We head back to Europe have gone to four very different venues, had had two 1-2 starts and one 1-3 start. So I think there is an awful lot of positives. As you saw with Ferrari here, they didn't score big points either. So I think it is innate to the championship that there will be swings and roundabouts to it.
Q. Do you feel you have improved operationally over last season?
CH: Absolutely. There is no question about that. Here was not anything to do with strategy or operationally. I think the communication between the engineers and the cars and the drivers - at the end of the day they made all the same calls as Lewis did, so I don't think there are any issues there whatsoever.
Q. Do you think F1 is having a bit of a re-appraisal of Jenson Button after his strong start to the season, when many said he would get blown away by Lewis Hamilton?
CH: It is two wins to nil in Jenson's favour at the moment. I think he is an under-rated driver, and he has read the conditions extremely well again today, and done a faultless drive. For sure he is the reigning world champions and he is a major contender as he leads the championship now.
Q. What contingency plans have you got for getting your personnel back to Europe, and getting your cars back so you can get the upgrades on?
CH: Well, that is a very good question. I think we rely very heavily in Bernie as all the cars are in the same situation. In terms of the upgrades coming they are still being made and they will be bolted to the car anyway, so as long as the car gets to Barcelona we should be alright. Thankfully there is an additional week between this race and the first European race, so hopefully things will settle down very shortly.
Q. And your personnel, with people being told here they may not leave until early May?
CH: The problem is that there is always a bit of scaremongering. It is a bit of an unknown. In my lifetime I cannot remember a volcano going off and leaving people stranded. If the worst come to the worst, we will be on the Trans-Siberian Express. And where there is a will to get home, there is a way.
Q. Is the fact that there is a bigger gap a bit of a blessing in a way?
CH: Certainly for the cars. I am far less concerned about the people getting home because all the guys are very resourceful. I am far more concerned about the freight which obviously Bernie is more than capable of dealing with.