ORECA Peugeot fastest in first practice
| | |
| --- | --- |
| By Steven English | Friday, April 9th 2010, 14:00 GMT |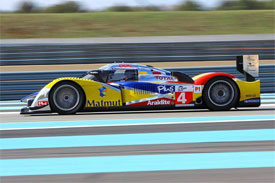 The ORECA Peugeot 908 set the fastest time of the opening free practice session for this weekend's Le Mans Series opener at Paul Ricard.
The customer diesel car of Olivier Panis, Nicolas Lapierre and on-loan factory Peugeot pilot Stephane Sarrazin set a benchmark time quarter of a second quicker than the best set by the works Audi R15 of Dindo Capello and Allan McNish.
ORECA's own car was third quickest in the hands of Soheil Ayari, Didier Andre and Loic Duval, just half a second slower than the Peugeot. The leading Rebellion Racing Lola was just another tenth further back, with Nicolas Prost and Neel Jani sharing driving duties.
The rest of the LMP1 class, including the customer-run Signature Aston Martin and Beechdean Mansell Ginetta were more than a second off the leading pace.
Strakka Racing has stepped down to the LMP2 class this year and topped the first session with its HPD (formerly Acura), driven by Danny Watts, Jonny Kane and Nick Leventis. They were nearly a second faster than the second in class Quifel Ginetta of Miguel Amaral, Olivier Pla and Warren Hughes.
The Larbre Competition Saleen is the only GT1 car racing at Paul Ricard this weekend, and was only half a tenth quicker than the fastest GT2 car, which was the CRS Ferrari 430 of Andrew Kirkaldy and Tim Mullen.
A full second slower than them in second place was the AF Corse Ferrari of Gianmaria Bruni and Jaime Melo. Richard Westbrook and Marco Holzer were a further half a second back, and third in class, in the first of the Porsches.
Former grand prix drivers Giancarlo Fisichella and Jean Alesi finished their first LMS session seventh in class, in the AF Corse Ferrari they share with Toni Vilander.
The Schnitzer-run BMW was slowest of the GT2 cars in its first European session, with Jorg Muller and Dirk Werner driving, while the Oak Racing Pescarolo of Matthieu Lahaye and Jacques Nicolet failed to set a time.
Pos Drivers                       Class/Team/Car        Time       Gap   Laps
 1. Panis/Lapierre/Sarrazin       P1 ORECA Peugeot      1m44.154s          28
 2. Capello/McNish                P1 Audi               1m44.397s  +0.243  19
 3. Ayari/Andre/Duval             P1 ORECA              1m44.660s  +0.506  21
 4. Prost/Jani                    P1 Rebellion Lola     1m44.800s  +0.646  25
 5. Belicchi/Boullion/Smith       P1 Rebellion Lola     1m45.568s  +1.414  22
 6. Fernandez/Primat/Mucke        P1 Aston Martin       1m46.009s  +1.855  22
 7. Ragues/Mailleux/Ickx          P1 Signature Aston    1m47.107s  +2.953  27
 8. Leventis/Watts/Kane           P2 Strakka HPD        1m48.160s  +4.006  24
 9. Mansell/Mansell/Mansell       P1 Beechdean Ginetta  1m48.272s  +4.118  11
10. Amaral/Pla/Hughes             P2 Quifel Ginetta     1m49.065s  +4.911  20
11. Erdos/Newton/Wallace          P2 RML Lola           1m49.551s  +5.397  21
12. Geri/Piccini/Piccini          P2 Racing Box Lola    1m50.221s  +6.067  21
13. Hein/Moreau                   P2 Oak Pescarolo      1m50.924s  +6.770  21
14. Ojjeh/Greaves/Ebbesvik        P2 Bruich. Ginetta    1m50.943s  +6.789  23
15. Salini/Salini/Gommendy        P2 WR-Zytek           1m53.047s  +8.893  24
16. Cioci/Perazzini/Ardizzone     P2 Racing Box Lola    1m53.514s  +9.360  23
17. Toulemonde/Zollinger/Zampatti LC Formula Le Mans    1m56.150s +11.996  25
18. Zacchia/Moro/Kaufmann         LC Formula Le Mans    1m56.514s +12.360  27
19. Beche/Pillon/Capillaire       LC Formula Le Mans    1m56.579s +12.425  25
20. Frey/Meichtry/Dueck           P2 Race Perf. Radical 1m56.617s +12.463  21
21. Kraihamer/de Crem/Delhez      LC Formula Le Mans    1m56.854s +12.700  23
22. Pourtales/Noda/Kennard        P2 KSM Lola           1m56.938s +12.784  10
23. Stirling/Hines/Piscopo        LC Formula Le Mans    1m58.539s +14.385  27
24. Schell/Metz/da Rocha          P2 Pegasus Courage    1m58.671s +14.517  14
25. Gardel/Goueslard/Canal       GT1 Larbre Saleen      1m58.955s +14.801  17
26. Kirkaldy/Mullen              GT2 CRS Ferrari        1m58.979s +14.825  20
27. Barlesi/Cicognani/Chalandon   LC Formula Le Mans    1m59.639s +15.485  25
28. Bruni/Melo                   GT2 AF Cornse Ferrari  1m59.971s +15.817  20
29. Kutemann/Basso/Hartshorne     LC Formula Le Mans    2m00.095s +15.941  22
30. Holzer/Westbrook             GT2 Prospeed Porsche   2m00.401s +16.247  16
31. Bell/Turner                  GT2 JMW Aston Martin   2m00.437s +16.283  23
32. Lieb/Lietz                   GT2 Felbermayr Porsche 2m00.468s +16.314  20
33. Farnbacher/Simonsen          GT2 Farnbacher Ferrari 2m00.713s +16.559  26
34. Fisichella/Vilander/Alesi    GT2 AF Corse Ferrari   2m00.757s +16.603  23
35. Ehret/Quaife/Kaffer          GT2 CRS Ferrari        2m00.958s +16.804  21
36. Companc/Russo                GT2 AF Corse Ferrari   2m01.159s +17.005  26
37. Narac/Pilet                  GT2 IMSA Porsche       2m01.422s +17.268  24
38. Dumbreck/Coronel/Bleekemolen GT2 Spyker             2m01.846s +17.692  23
39. Ragginger/Ried/Long          GT2 Felbermayr Porsche 2m02.616s +18.462  21
40. Muller/Werner                GT2 BMW                2m02.923s +18.769  29
41. Lahaye/Nicolet                P2 Oak Pescarolo      no time