| | |
| --- | --- |
| Rossi predicts big battle for 2010 title | |
| | |
| --- | --- |
| By Pablo Elizalde | Monday, April 5th 2010, 10:18 GMT |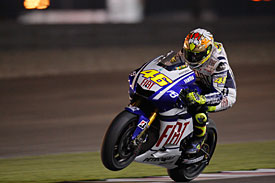 Valentino Rossi is predicting a big battle for the MotoGP championship this year as the 2010 kicks off this weekend in Qatar.
The Yamaha rider will begin his title defense in the night race, and while he admitted there is still work to do on his new bike, the Italian feels he will be starting in good shape.
"Finally we're at the start of the season and we are all very excited," said Rossi in a team preview. "The pre-season has gone well for me, our new M1 is good, Yamaha and Bridgestone have done a great job and we have been fast.
"We have only had six days on track so we still have work to do and things to learn about the new bike, but we are starting in good shape. I expect this season to be a big battle with many riders very strong, and I hope that we will show some good racing to the fans.
"Qatar hasn't been one of the best tracks for our bike in the last few years but at the test we went well so I hope this will continue again for the race."
Team-mate Jorge Lorenzo conceded he will not be 100 per cent ready for the first race after injuring his hand during training in the winter.
The Spaniard, however, says he is eager to get racing again.
"I am not perfect yet, I still need more time to recover 100% from my injury, but at least I can ride in Qatar," he said. "I am very happy because we are so close now to the start of the season; it's been a long winter! Unfortunately, I had some troubles in training and hurt my hand, but these things happen.
"Qatar is a very special track for me; it was the place where I got my first podium in MotoGP in 2008! I know this time it will be more difficult, but I will try to be close to the action. I hope this year it doesn't rain like last year!"