KERS must perform for F1 return
| | |
| --- | --- |
| By Jonathan Noble | Sunday, April 4th 2010, 04:35 GMT |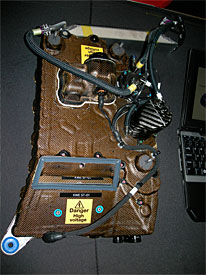 Kinetic Energy Recovery Systems (KERS) must be cost-effective and guarantee a big boost to the racing if they are to be allowed back into Formula 1.
That is the verdict of leading teams who have begun discussions about ending a voluntary ban on the hybrid technology at the end of this season.
As AUTOSPORT revealed, Renault is leading a push to get KERS back into F1, with the car manufacturer adamant that it will not only help boost the sport's green credentials and relevance to the road car industry, but will also help the spectacle.
A number of team bosses accept that KERS does form an important part of F1's future, but think that financial implications need to be thoroughly thought through - as does the benefit KERS use will have on the racing.
Red Bull Racing boss Christian Horner said: "KERS is a very interesting technology, but I think it is important we don't make the same mistake as last year where the value of having it on the car meant it didn't earn its place. That is why ultimately we didn't run it.
"If we are to run KERS, we should look at upping the influence of it and how it can be incorporated into the sporting regulations of assisting with a push-to-pass. Whether that can be done for 2011, or if it is better to look at it for 2012 or 2013 is for the technicians to decide.
"The most important thing is that they take time to study it properly, and it has to be cost-effective. Making KERS is not our core competence, so we would rely on an engine manufacturer to supply it for us."
McLaren team principal Martin Whitmarsh echoed Horner's thoughts: "I think KERS is something that obviously we ran successfully, enjoyed it and enjoyed the technology last year. We support the idea of KERS in F1, and we would love to have it.
"I think what we have to do is look at the bigger picture and at the moment F1 has to be sustainable for a minimum of 10 teams, hopefully 13, and when we reintroduce KERS we have to decide the speed with which we reintroduce it and decide if it is 1) affordable and 2) realise that last year was interesting because some teams had KERS and some didn't.
"In the future KERS should be one of those sporting opportunities; you have a limited number of deployments that help with overtaking, which is a good thing."
When asked how much opinion amongst teams was split over KERS, Whitmarsh said: "I wouldn't say it is divisive but a lot of the teams cannot afford KERS next year, and probably the majority cannot. That is why we need to have some understanding and find something that is affordable and worthwhile for the sport."
Mercedes GP team principal Ross Brawn reckoned it vital that the power output was upped - with talk already that any return will allow at least double the storage opportunity that was allowed in 2009.
"I think we acknowledge that KERS will have a part to play in future technologies," explained Brawn. "We think that the gains that were available last year in KERS were probably not significant enough, and we should look at KERS in the future.
"With that in mind, we would prefer to look at something that is planned and integrated with the power train. The new power train comes in 2013, and it doesn't mean that the new KERS can only come in 2013 because it can maybe be anticipated.
"But if we do a system now and we do a new system in 2013 then it is a little bit of a shame because with the systems we have now, the advantage they offer is probably not enough.
"We need to look at systems that are substantial enough to help the sporting side of the racing. If we had a push-to-pass button that you could use a certain amount of time then you could have something that is quite exciting. I think KERS has a future, but I think we have to be careful not to rush back to what we had last year which we all agreed was not a huge success. It is something we want to support in the future."