Hulkenberg hails qualifying breakthrough
| | |
| --- | --- |
| By Geoff Creighton and Pablo Elizalde | Saturday, April 3rd 2010, 09:58 GMT |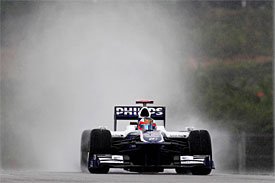 Nico Hulkenberg hailed his qualifying performance as a breakthrough after reaching Q3 ahead of the Malaysian Grand Prix.
The Williams rookie will start the race from fifth position after having reached the final qualifying segment for the first time.
Hulkenberg also qualified two places ahead of team-mate Rubens Barrichello.
"Yeah, good success," Hulkenberg told the BBC. "I mean finally a bit like a breakthrough. I'm obviously very happy even though I think it's very tight - the guys in front, I could have had them.
"Not an ideal lap but it's very difficult in these conditions anyway, but I'm quite happy where I am and happy for the team as well."
The German admitted it will be a big day for him tomorrow, but he claimed he is ready to attack to get a good result.
"It is, but I'll just get out there and get my job done, at least try to maintain my position and in the best case gain places. I'll not be shy."