Hamilton: Strategy cost McLaren a 1-2
| | |
| --- | --- |
| By Jonathan Noble | Monday, March 29th 2010, 06:39 GMT |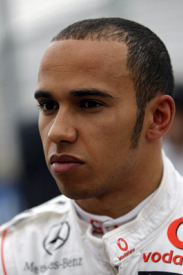 Lewis Hamilton reckons McLaren threw away a one-two finish in the Australian Grand Prix by making him come in for his second set of tyres.

The former world champion was left deeply disappointed about the strategy decision to make him have a second pitstop for dry tyres - while cars that eventually finished ahead of him stayed on their original sets.
Hamilton has revealed that the decision to stop again was not his, and not even suggested by him, as he felt his rubber was in good shape while he set about challenging Robert Kubica for second place.

"My tyres were fine," he said. "I started off on a good set, got a good start, was up to a pretty good position, up to third, happy with everything and I was pulled in - I don't know why I was pulled in.

"That is what lost us at least a one-two today. I think the tyres would have been pretty good. I may have struggled towards the end, but that is how the other guys did - and it was almost impossible to overtake a Ferrari anyway."

Hamilton is keen to not dwell too much on the events in Australia, however - with the next race in Malaysia taking place this week.

"We go forward to KL and hopefully we will get a good one," he said. "We look forward to the next race and hopefully we will have a better one - although I know our qualifying pace is not as fast as the others."