Schumacher relaxed on Rosberg form
| | |
| --- | --- |
| By Jonathan Noble and Pablo Elizalde | Thursday, March 25th 2010, 11:58 GMT |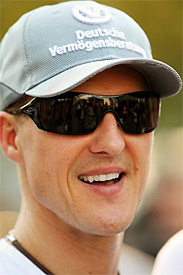 Michael Schumacher says there was nothing to be ashamed of after being outpaced by team-mate Nico Rosberg during the Bahrain Grand Prix weekend.
"It's normal. It was the other way around maybe in the past, but it was the first race, the beginning of a new challenge for me," Schumacher told reporters in Melbourne, ahead of the second race of the season on Sunday.
"So I'm quite relaxed about that. He's a very good and fast driver, so I don't think I need to be ashamed about where I was in Bahrain."
Schumacher, in his first grand prix weekend since he retired from the sport in 2006, was outqualified by Rosberg and finished behind his team-mate in the race.
The seven-time champion said had no expectations about Rosberg, but praised the young German's performance.
"I don't think I had a particular expectation," he said. "It's no secret that he's a top pilot, with lots of potential. We both are references to each other. He's doing a very good job, he's a very good team-mate. He focuses on very similar subjects, that's quite important."
Schumacher also reckons both him and Rosberg extracted the best from their cars in Bahrain, admitting Mercedes is simply not as fast as the top teams at the moment.
"Put it this way: if you see Nico and myself, I think the maximum performance we could have achieved was what we achieved," Schumacher said. "And that's where the car is at the moment. But then it's up to us to get there. It's tough work, Formula 1.
"It's a big challenge, and that's what we are here for. It's the reason for being around and come to the sport."