Q & A with Robert Kubica
| | |
| --- | --- |
| By Jonathan Noble | Thursday, March 25th 2010, 06:30 GMT |
The lack of excitement in the Bahrain Grand Prix is still dominating conversation two weeks later in Australia, but Renault's Robert Kubica thinks the tame race at Sakhir should not have come as surprise.
AUTOSPORT heard his thoughts on the current Formula 1 rules, and on Renault's potential in Melbourne.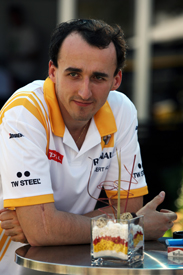 Q. What's your view on the racing in Bahrain?
Robert Kubica: I don't know if we were expecting some completely different races. What we have seen in Bahrain is what I was expecting, so there was no real surprise, at least for myself. Actually from my point of view, there were some interesting factors to discover, which makes our life a bit different than it was in the past. But for the show and overtaking, there was no surprise. I was expecting a completely different race from a driver's point of view and an engineer's point of view, and it was. But from a show point of view, I don't think it was worse than it was last year. It was the same.
Q. Is it harder to pass now?
RK: Well the first cars were quite easy because the teams were much slower. But then I think even if you're two seconds quicker it is difficult to overtake, especially when you know that you have to make your tyres last for 40 laps. You have to take it easier when you know your brakes might get in trouble with hot temperatures. All those little things put you into a position where maybe it's even more difficult to overtake than in the past. At least in the past you had weight differences, this year everybody's running the same fuel loads and a similar pace, so I think overtaking is even more difficult, but that's just how it is.
Q. Do you have to do even more work as a driver now?
RK: It's different racing, you have to maybe take more care of these issues like tyre wear, brake wear and temperatures overall, depending on your position and strategy. I found it quite an interesting experience in Bahrain and I learned new things. But for sure the race is much slower than it was - you are lapping eight seconds off the pace compared to qualifying so it's like you're lapping in slow motion. It puts you in a different situation. In the past the races were much quicker, you were burning down the fuel and changing the tyres twice so tyre wear was not so important. Now everything is happening slower.
Q. What's the effect of temperature on tyres likely to be here?
RK: I think nobody knows, they are different tyres and I have a different car to last year. This year I am struggling less with warm-up, for example. Last year our car with BMW was much more sensitive to this, but I don't know if that's coming from the car or the tyres. I think this year tyres are more suited to a longer distance and lower degradation, so most probably their operating window is wider.
Q. Were the drivers being conservative in Bahrain?
RK: You always try to give your maximum. Whatever you do, it's to make your race as quick as possible. By not having refuelling, everything is more under stress - we are putting more stress on the brakes and tyres by having more fuel. You might push less in the beginning to have more pace afterwards, which with the refuelling, especially if you were doing a two-stop race, you were harsher on the tyres and you were more aggressive because you could be, even if you got a bit in trouble on the tyres you knew in five or 10 laps you could change them. Now you have to take care of them. It was quite interesting with Pedro [de la Rosa] who came in front of me, he really pushed hard for five laps and was pulling away, but after five laps he dropped like 2s per lap.
Q. Do the rules mean that when the car is lightest and quickest at the end, you're having to drive slower?
RK: Well, you're using all your speed, but depending on which position you are in, which tyres, the tyre wear, and you see some cars getting quicker, some keeping the same lap times. But I think everyone agrees that 80 per cent of the races are finished after 70 per cent of the race, and they were always finished after the second pitstop. Now we most probably have only one-stop races, the races will be finished - unless we see problems - earlier. When you had a bit of strategy play you could see more action on the track.
Q. Do you have an understanding of how Renault compares to the other teams after Bahrain?
RK: I think it was clear in Bahrain that we were not far off Mercedes. Behind the top four teams I think there is actually quite a close pack with Renault, Force India, Williams and Sauber, but Bahrain is a different track to here, Malaysia is different again, so I think we'll have to wait three or four races to have a better picture.
Overall I think it was quite a good achievement for us. I know it sounds low profile, just qualifying in Q3, but we have to stay realistic. Last year was quite a difficult season for Renault and Fernando [Alonso], so we are working to slowly build up our pace and become more competitive. I think there was quite a big step during the winter in the factory, and I think on the racetrack in February we did quite a good job of improving.
Q. Do you see a close fight at the front between Red Bull and Ferrari here, and where will Renault be?
RK: I think clearly the top two teams in Bahrain were Red Bull and Ferrari, so I think they will still be at the top. The job will be to extract the maximum from the car that's possible for this track. I think there is quite a close battle in the group where we are. Of course we hope to be in front, and we have some new upgrades for here, so we hope to make another step forward. We hope our car will suit this track - I have quite a good feeling. Some doubts on one thing, but we will see.
Q. Do you think switching to narrower front tyres was a mistake?
RK: I think the front tyres have nothing to do with overtaking.
Q. But it's a reduction in mechanical grip...
RK: I don't think overtaking three years ago was easier than now. It has always been very difficult. There is a lot of talking going on. Of course it would be nice from the drivers' point of view if it as easier to overtake, because in the end we are racers and it's always good to have the possibility. For example I was 2s quicker than the other cars in Bahrain and it was not possible to overtake. It was annoying, but that's how it is. It was like this when I joined Formula 1 and it is like this now. We went from grooves to slicks, to narrow tyres, to a completely different aerodynamic concept.
There are many factors that put together make overtaking very difficult, and it will be like this forever unless you take road cars and paint them like F1 cars. It's normal that the higher category you go to, the harder overtaking is. I just say that it looks like it is more difficult [in 2010] because somehow you have to not think about this lap, but to bring the car home. The new regulations, the refuelling ban, put much more stress into everything and makes it more difficult.
Q. What's your view on the late start time in Melbourne?
RK: Last year I think it was extremely dangerous in the last 20 laps of the race. The last sector, especially the last corner, it was like going through it blind. It was impossible to see. The last 20 laps you could see all the drivers losing half a second in the last sector because you couldn't see anything when the sun is very low. For sure it's not nice to go through a corner in an F1 car where it's really very, very difficult to see anything. That's how it is. Maybe some cloud will help us, which looks like it might be for Sunday.
Q. But if rain is forecast, won't that be more dangerous?
RK: No, unless it's raining and it's sunny - then it will be more difficult!
Q. Last year the difference between the two tyre compounds made this race quite lively. What do you expect this year?
RK: Yes and no. It's very difficult to predict. Last year I think I was lucky because after 10 laps I was already 25s off the leader, then the safety car came out and it played out for us. This year it might happen as well, but overall we will see I think similar strategies to Bahrain.
Q. What if the top guys on the grid are struggling with softs and the guys behind are on hards?
RK: It could, but I think no one will know how the race will look before it happens. It was quite surprising to see everyone stopping around lap 15 in Bahrain and going to the end. I was surprised. I was one of the earliest cars to stop, and I was surprised how easily I could finish the race with the tyres.
It's very, very difficult to predict, and to predict what gaps you will have. Now strategy depends more on the traffic than the tyres. When you stop you make sure you are in front of the group, not behind, and now the strategy is more around getting clear air after the stop in order to be able to push with fresh tyres for a few laps. Last year you were limited by fuel so it was clear that you had to come in, now you can play with stopping longer, shorter, whatever.