Montoya: Keselowski will back down
| | |
| --- | --- |
| By Diego Mejia | Sunday, March 21st 2010, 16:34 GMT |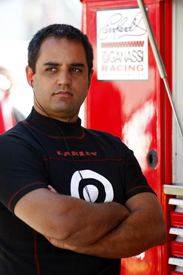 Juan Pablo Montoya expects Brad Keselowski to tone down his aggressiveness on the track following his accident at Atlanta two weeks ago.
Speaking at Bristol, Montoya said he anticipates the Penske driver will change the way he races, even if Keselowski himself has said otherwise.
The Earnhardt Ganassi driver admitted that he struggled with his approach initially when he switched from Formula 1, but had to adapt to the way of racing in NASCAR.
"I think he'll learn," said Montoya about Keselowski. "He's going to say he's going to race the same way but I'm sure he won't. And if he does, somebody else will wreck him again. I think he'll learn. It's hard. You want to show you can do it and you can get the job done. But with the races being so long, I think you've got to learn to respect everybody.
"I struggled with it. I didn't wreck anybody at the beginning but I was an a** to get past because I was used to that [in F1]. I was used to racing the hell out of everybody and [in NASCAR] you don't have to."
Montoya said that NASCAR being more flexible on letting the drivers police themselves on the track this year, is simply a way of making public what has been an unwritten racing code between stock car drivers for years.
"If you wreck somebody you've got to expect that they're going to get you back," said Montoya. "It's always been like that. [Now] it's a little more open for the public, but when somebody wrecks you, you're going to wreck them back.
"You don't want to wreck somebody on purpose. But I think if you do, you've got to expect that they're going to get you back."
The Colombian said it is hard to compare how rivals race each other hard in F1 relative to how it is done in NASCAR, given how fragile F1 cars are to wheel-to-wheel contact. He said in open-wheel racing respect from rivals has to be earned in a different way and being aggressive and not backing down is one of them.
Montoya did not mind crashing at high-speed at Motegi in 1999 to try to earn respect on the track from Champ Car's Michael Andretti, when he was entering the series as a rookie and in just his second race.
He also remembered his spat with Tony Stewart at Homestead last year and said that after being on the receiving end of contact from the former Sprint Cup champion, Stewart was obviously expecting him to retaliate, as he eventually did.
"When you do that to somebody and you expect that they don't get you back, you're dreaming; especially when you've got a bumper," Montoya said.
Keselowski fought for victory on Saturday in the closing laps of the Nationwide Series race against Penske team-mate Justin Allgaier. Despite him getting very close to making contact with his young rival a couple of times, in the end he had to concede victory to Allgaier.