Virgin targeting early success
| | |
| --- | --- |
| By Jonathan Noble | Friday, March 19th 2010, 12:04 GMT |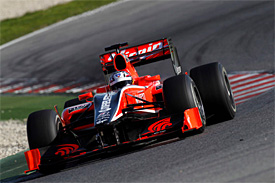 Richard Branson believes Formula 1's move to cut down costs in the next few years will help his Virgin Racing team on a fast track to success.
Although Virgin has started its first season in F1 near the back of the grid, Branson thinks his outfit has every chance of following in the footsteps of Red Bull Racing in becoming frontrunners in a short space of time.
And with F1 teams' budgets all due to be cut to around the £40 million level that Virgin Racing is operating to this year, Branson believes that could be a key factor in helping his outfit move forward quicker.
"It was a five or six year process, but if the rules are stuck to, and everybody comes within the £40 million budget that we are working to this year, then in a couple of years time we will know how to run a team with that money, while other teams will have to come down to that level," said Branson.
"So then things will start equalling out.
"Yes, they [the established teams] will have quite a few more years under their belt but we have quite a few guys here with a lot of experience. So, we are hoping for three to five years, rather than five years. But, who is to know? We have to aim for it."
He added: "We went into this with our eyes completely open. To me it is far more exciting building a team from scratch, than sponsoring a team that had been around for many years. We want to start eating our way up the group.
"Look at Red Bull Racing, and how they got themselves ahead of Ferrari. Hopefully one day Virgin can overtake Red Bull, but you have got to start somewhere."
Virgin Racing technical director Nick Wirth reckons Branson's idea of making swift progress is realistic.
"Yes, I genuinely think so," he explained. "We've got a very ambitious development programme, and I would not want to reveal how many seconds we will put on the car this year. Richard knows and it will be a record if we can achieve it, particularly in the budget.
"People talk about how McLaren sped up last year. We think we can do some fairly impressive things despite this very rigid budget we are working to, and just progress from there."