#07 Peugeot leads night practice
| | |
| --- | --- |
| By Matt Beer | Friday, March 19th 2010, 05:30 GMT |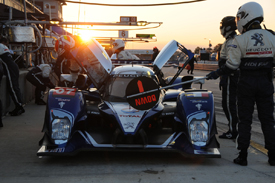 After the #08 Peugeot had topped both daytime practice sessions at Sebring on Thursday, the sister #07 entry moved back to the front in yesterday evening's night practice.
Marc Gene led the way for the team, with a lap of 1m45.494s giving him the top spot by 0.3s.
Peugeot's main rivals had been within a second during the day, but last night the gap back to the third-placed Aston Martin Racing entry was up to 2.6s.
Highcroft led LMP2 in fourth place overall, edging ahead of the LMP1 Drayson Lola that had held third in the previous practice sessions.
JR Hildebrand set the LMPC pace for Genoa, less than a tenth of a second in front of the #95 Level 5 car.
Rahal Letterman BMW's run of one-two results continued in GT2 for a third consecutive session, with Dirk Muller the team's pacesetter. The two Extreme Speed Ferraris were next up in class. Alex Job Racing was first and second in GTC, ahead of TRG.
The only team unable to make it out in night practice - during which each driver must complete three laps - was RSR Jaguar, which remained in the pits following a failure in the afternoon session.
Pos  Cl   Drivers                        Car                Time
 1.  P1   Gene/Wurz/Davidson             Peugeot            1m45.494s
 2.  P1   Lamy/Bourdais/Minassian        Peugeot            1m45.811s
 3.  P1   Mucke/Primat/Fernandez         Lola-Aston Martin  1m48.180s
 4.  P2   Brabham/Pagenaud/Franchitti    HPD                1m48.711s
 5.  P1   Drayson/Cocker/Pirro           Lola               1m49.888s
 6.  P2   Pickett/Graf/Maassen           Porsche            1m50.989s
 7.  P1   Willman/Burgess/Ehret          Lola               1m52.287s
 8.  P2   Dyson/Smith/Meyrick            Lola-Mazda         1m55.700s
 9.  PC   Wallace/Sutherland/Hildebrand  ORECA              1m57.393s
10.  PC   Tucker/Hunter-Reay/Gue         ORECA              1m57.471s
11.  PC   Tucker/Bouchut/Wilkins         ORECA              1m57.765s
12.  PC   Feinberg/Marcelli              ORECA              2m00.497s
13.  PC   Zugel/Jeannette/Julian         ORECA              2m01.355s
14.  GT2  Muller/Hand/Priaulx            BMW                2m01.928s
15.  GT2  Auberlen/Milner/Werner         BMW                2m02.535s
16.  GT2  Sharp/van Overbeek/Farnbacher  Ferrari            2m02.593s
17.  GT2  Brown/Cosmo/Barbosa            Ferrari            2m02.847s
18.  GT2  Magnussen/O'Connell/Garcia     Corvette           2m02.905s
19.  GT2  Melo/Bruni/Kaffer              Ferrari            2m03.066s
20.  GT2  Bergmeister/Long/Lieb          Porsche            2m03.184s
21.  GT2  Beretta/Gavin/Collard          Corvette           2m03.259s
22.  GT2  Sellers/Henzler/Pilet          Porsche            2m03.305s
23.  GT2  Krohn/Jonsson/van de Poele     Ferrari            2m05.678s
24.  GT2  Robertson/Robertson/Murry      Doran Ford         2m06.430s
25.  GTC  Gonzalez/Leitzinger/Keen       Porsche            2m08.012s
26.  GTC  Gonzalez/Diaz/Kelly            Porsche            2m08.251s
27.  GTC  Richard/Ende/Lally             Porsche            2m08.255s
28.  GTC  Curtis/Sofronas/Pilgrim        Porsche            2m08.430s
29.  GTC  Sweedler/Kapudija/Lueders      Porsche            2m10.062s
30.  GT2  Law/Neiman/Lietz               Porsche            2m11.573s
31.  GTC  Rodriguez/Bieker/Friedman      Porsche            2m11.688s
32.  GTC  Lewis/Vento/Aschenbach         Porsche            2m11.838s
33.  PC   Pagerey/Wong/Ducote            ORECA              2m24.812s
34.  GT2  Gentilozzi/Goossens/Dalziel    Jaguar