FIA to clarify double diffuser issue
| | |
| --- | --- |
| By Jonathan Noble | Monday, March 15th 2010, 09:22 GMT |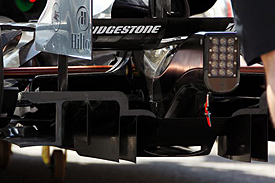 The FIA is set to issue a clarification about double diffuser designs prior to the Australian Grand Prix, following concerns about a number of teams exploiting the area for added performance.

FIA's technical chief Charlie Whiting inspected all the cars at the Bahrain Grand Prix and AUTOSPORT understands that there is some unease about teams utilising start motor holes to make their diffusers more effective.

F1's technical regulations state that a hole can exist in the diffuser to allow access for an engine start motor. Article 3.12.7 states: "A single break in the surface is permitted solely to allow the minimum required access for the device referred to in Article 5.15. [supposed to refer to starter motor, although this is Article 5.16]".

There is no definition of what the 'minimum' requirement is though - and some teams have used exotically shaped starter motors to allow themselves to fit sculpted holes in the diffuser that produce an aerodynamic benefit.

It is understood talks took place between the FIA and at least three teams - including McLaren and Mercedes GP – to sort out the matter. The governing body believes that the outfits are exploiting the rules with what they are doing – even if they are not strictly going against the regulations.

Sources suggest that a clarification will be issued by the FIA prior to the Australian Grand Prix. Reports which suggest the designs had definitely been outlawed are believed to be wide of the mark.

McLaren team principal Martin Whitmarsh said about the situation: "I think Charlie came came down and looked at all the cars in that area, but I am not aware that anyone had any action taken against them over it. There were some concerns expressed.

"There is a discussion between all the teams about what we are going to do. There are holes in the diffuser for the starter, the hole in ours is no bigger than the one on the championship winning car last year. And also no bigger than it is on about four other cars."