Montoya critical of McMurray
| | |
| --- | --- |
| By Diego Mejia | Monday, March 1st 2010, 02:21 GMT |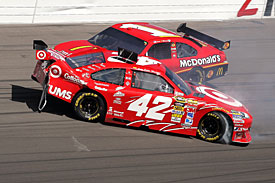 Juan Pablo Montoya criticised team-mate Jamie McMurray after the two made contact in the NASCAR Sprint Cup race at Las Vegas on Sunday.
Both were running inside the top 10 on lap 94 when McMurray's Earnhardt Ganassi Chevy made contact with the left rear corner of Montoya's car entering Turn 3, sending him into a spin, with both cars hitting the barrier.
The Colombian was quick to blame his team-mate, speaking right after taking his car to the garage for repairs.
"Jamie plain and simple just wrecked us," said Montoya. "Every time I am around him, he wants to run the [heck] out of me. I don't know if it is okay to say that but I just did.
"On the restart I was inside of him, I think he got tight and never lifted, I didn't hit the fence because... it was a miracle. Then I arced it in to 3 and he just plain and simple just wrecked us.
"I'm sure on the radio it was 'ah, I didn't mean that'. He is just trying to prove to people he can drive a race car and I guess he isn't doing too many favours on this team."
McMurray, who tweeted: "Tough day, sorry to all of the @jpmontoya fans" following the race, said Montoya's remarks against him were made in the heat of the moment.
"Oh, you're probably just frustrated for what happened on the race track, so you guys [the media] probably shouldn't put a lot of stock into what he said," said McMurray. "When you ask somebody something immediately after getting crashed, they typically don't have nice things to say."
The Daytona 500 winner said he got loose while battling with Montoya and that he was unable to prevent hitting his team-mate's car.
"I just got really loose underneath him, he turned in a little bit earlier than I was expecting and when it did it made even looser," said McMurray. "I just had to catch my car and unfortunately I got into him whenever I did that."
McMurray was able to remain on the lead lap following the incident but the damage on his car caused him to lose pace and finish down in 34th place, seven laps down. Montoya crossed the finish line 37th after lengthy repairs in the garage.