Harvick buoyed by strong start
| | |
| --- | --- |
| By Diego Mejia | Wednesday, February 24th 2010, 02:29 GMT |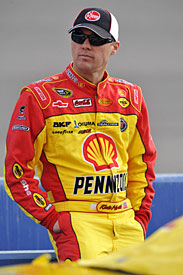 NASCAR Sprint Cup Series points leader Kevin Harvick is happy about the start of his season but says the toughest part of his team's surge back to the front still awaits.
The Richard Childress Racing driver jumped to the lead of the Cup standings after finishing second to Jimmie Johnson last Sunday at California, charging back from a pit speeding penalty while in the lead.
A week earlier he was the pacesetter in the Daytona 500, where he led the most laps but got shuffled back from the front on the final restart after losing the draft.
His performance has been mirrored by his RCR team-mates, with both Jeff Burton and Clint Bowyer running at the front in both races, Burton finishing third last weekend at Fontana and Bowyer a contender until an untimely pitstop put him a lap down.
Harvick, who kicked off this year in style by winning the non-points Budweiser Shootout at Daytona, says his team's motivation is at a long-time high, despite likely wins at the season-opener and at Fontana slipping through its fingers in the closing laps.
"With the three of us running good, it pushes us to fine-tune our stuff and really get the best out of our cars week in and week out," Harvick says.
"There's no hollow title. We're happy we have a shot. We just keep building on those things. It leaves that sour taste in your mouth when you don't win and you want to go back and win again.
"Right now it's just everybody's very motivated, letting our cars talk for us."
RCR downsized its on-track operation from four to three cars this year, given the lack of sponsorship for the #07 entry which was driven by Casey Mears last season.
The move seems to have played a part in allowing the squad to regroup over the winter and regain the form it had in the two previous years, when all three RCR drivers were in contention for the title.
Harvick believes that even if they have already caught up with the best up front, the real challenge for the balance of the season will be getting ahead of Jimmie Johnson and Hendrick Motorsports.
"I think, in my opinion, you always need to get better," says Harvick. "You need to constantly work on everything to keep going forward. You know, we worked hard to get to this point. But you can't stop. We don't need to get behind again. We need to work to progress forward before everybody else.
"I think, in my opinion, that's going to be the thing that will be the most challenging for us. It's not catching up. We did that. It's just getting in front of everybody else."
Clint Bowyer, who drives the #33 Chevy for RCR, is currently second in the Sprint Cup standings behing Harvick, while Burton ranks fifth in the points.