Q & A with Sebastien Buemi
| | |
| --- | --- |
| By Edd Straw | Friday, February 12th 2010, 11:25 GMT |
Sebastien Buemi dominated the second day of testing at Jerez on Thursday, until his time was bettered by Sauber's Kamui Kobayashi.
Despite that, the Toro Rosso driver was pleased with his day, as he told AUTOSPORT at the end of the day.
Q. Two days in the car at Jerez, one wet, one dry. How much more do you know about the car now?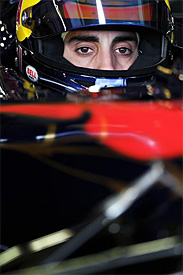 Sebastien Buemi: It was a good test. We did everything we wanted. We were lucky to have good weather today because the conditions should get worse during the next two days of testing, so we were happy to be able to test everything today.
We did more than 120 laps so that was positive. We are quite happy with the car. We found a lot of small things which can actually improve our performance, so we are happy with how testing is going.
Q. You've done many laps in these two days. Have the gearbox problems you had at Valencia all been cured? Was that just a quality issue?
SB: It was a small issue and it took a lot of time because we went step by step. We didn't want to change everything without really understanding why, so we are quite happy with the reliability of the car.
We are quite happy with the testing programme that we've had, with the parts that we've had, with how the car is performing. It's for sure very early to speak about what we can achieve and all that kind of thing, but we are for sure better prepared than last year. No question at all.
Q. When you used intermediate tyres on Wednesday, did you have the same problem the other teams did - that they were turning into slicks within eight to ten laps?
SB: Maybe not 10 laps, but we had this issue. The intermediate tyres are very soft, and maybe too soft for the new cars.
Q. Is the car feeling different on heavy fuel and low fuel?
SB: To be honest I didn't really try big off-sets so it's a bit difficult for me. I don't really know how the car feels with very low fuel. But with a good consistent fuel [load] it feels good. With very high fuel it also feels not too bad.
We need to wait and see how it will be in Bahrain, but at the moment I have a good picture of what I should wait for - and I'm quite happy with it.
Q. Are things going better than expected?
SB: Yes, it's always difficult to compare yourself with the other guys, but what is clear is that we are not 2s off the pace. That's already a good point for us. But it's too early to say where we really are in terms of top speed and ranking.
Q. When will you be back in the car at the next test?
SB: The first two days again.