Dennis sure of McLaren team harmony
| | |
| --- | --- |
| By Matt Beer | Thursday, February 11th 2010, 15:12 GMT |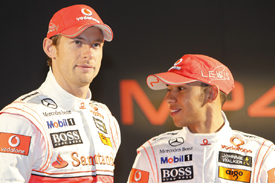 McLaren Group chairman Ron Dennis believes Lewis Hamilton and Jenson Button's similar characters will prevent any intra-team tension developing this season.
The team saw destructive rivalries develop when it paired Fernando Alonso with Hamilton in 2007, and Ayrton Senna with Alain Prost in 1988 and 1989. But despite fears that the same situation could arise between world champions Button and Hamilton this year, Dennis said he had no concerns.
When asked by BBC Sport if he ruled out any repeat of the Prost/Senna rows, Dennis replied: "Completely - primarily because irrespective of their individual characters, [Senna and Prost] came from very different cultural backgrounds and the basic DNA of their characters had that very different temperament.
"Then you have language [differences], which gives birth to miscommunication. You have one driver preceding the other and feeling that he had to catch up.
"You have all these very, very different chemistries, and it's just not the case with two drivers who have got like-minded approaches, an Anglophile approach. I don't foresee any problems or difficulties that are in any way comparable with the challenges that I had in the past."
He expects Hamilton and Button to be a very evenly-matched duo.
"I think they both have complementary skills," Dennis said. "They've got great abilities. I don't think the differences in their styles are going to favour one over the other.
"It's going to be a very, very competitive season, and I'm sure that their first objective is to beat the rest of the field. If we're in the privileged position of them having to race against each other and worry about the politics that may or may not come out of it - I doubt whether anything will come out of it in that sense - then it's going to be a great position to be in.
"They're a great combination of drivers and I'm sure the results will come."