| | |
| --- | --- |
| Brivio defends joint number one policy | |
| | |
| --- | --- |
| By Matt Beer | Thursday, February 4th 2010, 03:11 GMT |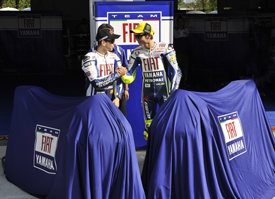 Yamaha boss Davide Brivio hopes his team can hang on to Valentino Rossi beyond 2010, and has defended its decision to pair two potential champions by running Jorge Lorenzo alongside the Italian.
Although Lorenzo and Rossi had a healthy rivalry while fighting for the 2009 championship, Rossi repeatedly stated last year that he believed it was unwise to run joint number one riders in a factory squad rather than nominating a clear number one - as had been the case when he was teamed with Colin Edwards prior to Lorenzo's arrival in 2008.
But Brivio pointed out that it was inevitable that one of the factory teams would have to run two potential champions, and sees no reason why Yamaha should stop doing so.
"There are three main manufacturers with four strong riders, so one of them will have to have two number one riders," he said. "At the moment that manufacturer is Yamaha. Let's see if we are able to confirm this strong team and continue to win for a long time."
He said Yamaha had no doubt that it wanted to retain Rossi, so it was up to the Italian to decide whether to stay with the team.
"I think the first thing is waiting until Vale's decision, whether he will continue in 2011 or not," Brivio said. "If so, I think Yamaha's wish is to continue with him."
Yamaha racing boss Lin Jarvis noted that while Rossi's comments about rider status and his future had been widely reported, he had not made this point to the team.
"I just heard this from other sources; I have never heard this directly from Valentino," said Jarvis. "It is really difficult to say [what will happen], but I think the negotiation will probably take place in the first half of 2010. Let's see and depending on results and on riders' desire we will see at the end of 2010."
Rossi said Yamaha would remain his first choice for 2011, but preferred not to discuss his future in depth.
"During the next summer I will have my ideas more clear about my future, about 2011 and 2012," he said. "I am very good in Yamaha, so I will talk to them first. Then we will see."
Lorenzo added that he was extremely happy in the team, and hoped to build a long-term relationship with Yamaha.
"I have always been happy in Yamaha," he said. "From the first moment I joined this factory they all welcomed me like one of the family and the ambiance in the garage is perfect. To me, my ideal is to be staying with Yamaha for a long time. We will see."