Button says times insignificant at present
| | |
| --- | --- |
| By Jonathan Noble and Matt Beer | Wednesday, February 3rd 2010, 17:42 GMT |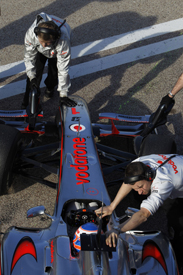 World champion Jenson Button says he is not even looking at lap times from testing yet as he believes it is too soon to make any judgements about potential 2010 form.
Although Ferrari has been fastest on all three days of this year's first test at Valencia this week, Button reckons fuel load variations and the nature of the twisty Spanish track make it hard to draw conclusions. The Briton was fifth fastest today, 1.5s behind Ferrari's pacesetter Fernando Alonso.
"I think you can say that Ferrari are fast, but we don't know how fast," said Button. "They can't do that time if they are not competitive, but you never know what fuel they are running when they do that time. Their slower runs, which I'm guessing were using a lot higher fuel, were still reasonably good so I guess they are fast.
"But this is the wrong place for us to be thinking about who is quick and who isn't. I'm guessing everyone is going to be having updates for the first race anyway and with the difference in fuel loads, you could be running 10 kilos or 160 kilos, so there is a massive difference and it is difficult to read into it.
"I think at the next test we might have more of an understanding when people are running very different fuel loads, and you can get an understanding of the difference of those loads and how much time per 10 kilos it is. Then you can work out who is quick and who isn't. But at the moment it is important for us to put our blinkers on and work with our car and improve it."
He emphasised that his focus today had been on acclimatising to the McLaren rather than pushing for fast times or doing in-depth set-up work.
"We have done a lot of work today and it has been really useful," Button said. "In a way it would have been nice to get some more testing done, set-up work, but this test was always to get used to the environment inside the cockpit, get used to working with the team and to run through all the checks that you always do at the first test.
"So it has been very useful, this morning was tough though. We have had to change a lot within the car, but I fit well now which is good. I feel comfortable and have a good height in the car and that is always important for your confidence."
Last year Button was thrilled with the Brawn GP car from his first lap in testing and went on to dominate the first half of the championship. But he said there was never any chance of comparable euphoria twelve months on because there was so much to adjust to when changing teams.
"Well it's difficult because first of all this is not the best circuit to get a feeling for how the car is going to be at the start of the season - because it is very different to any other circuit we race on so the balance is very different," he said.
"But today it's been a busy day of finding my way around the cockpit. Because at Brawn it was pretty much the same seat, everything worked the same inside the car and it was also the same in the way the car worked. There is a lot more to get your head around here and to work on before I would comment on anything like that.
"From Lewis's comments yesterday he is happy, we all want more. That's the way we are, but we have a good base to work with."