Todt vows to turn WRC around
| | |
| --- | --- |
| By David Evans | Tuesday, February 2nd 2010, 11:02 GMT |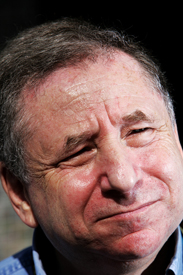 FIA president Jean Todt has spoken of his dissatisfaction with the current state of the World Rally Championship and his determination to turn the situation around during this morning's WRC season launch in Paris.
Talking publicly about the WRC for the first time, Todt said he was excited about the challenge ahead - and that it was part of the reason for his interest in taking on the presidency - but he admitted there were serious issues which would need to addressed.
"Rallying is very strongly implemented in my heart," said Todt, who was a rally co-driver early in his motorsport career and ran Peugeot's WRC programme in the 1980s.
"Rallying is among my priorities. It's important we are very enthusiastic about the start of new season, we have some great cars, manufacturers and drivers and co-drivers.
"But, we must be unsatisfied about the present situation. We have certain rallies as part of championship distributed around the world where there are limited numbers of manufacturers, this needs to be addressed. We are in a strong economic crisis and we need a strong effort to promote the heart of our championship.
"You can be sure of my personal commitment and we have created a rally [working] group to address the situation of rally all over the world. The World Rally Championship is the pinnacle, but we have to address rallying around the world.
"I'm very optimistic we will have a great 2010 championship, but I'm even more optimistic about the future of rally. A lot has to be improved. We must create a much bigger interest from the manufacturers, the privateers and the media. I am excited and I have the passion for this job."