Hirvonen clinches Monte Carlo win
| | |
| --- | --- |
| By Matt Beer | Friday, January 22nd 2010, 23:24 GMT |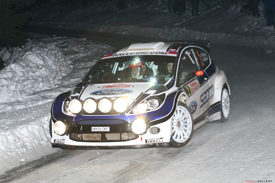 Mikko Hirvonen has given Ford's new S2000 Fiesta a superb victory on its competition debut in the Monte Carlo Rally.
The World Rally Championship runner-up led the event from the outset, resisting pressure from last year's winner Sebastien Ogier until the Peugeot's late retirement.
"This is definitely for the team," said Hirvonen as he celebrated a remarkable result for Ford. "The boys have been working so hard for the last few weeks."
Ogier's last-gasp drama elevated Juho Hanninen to second, the Skoda driver the best of the Intercontinental Rally Challenge regulars and scoring important points on an event that reigning champion Kris Meeke crashed out of.
Hirvonen was challenged by Peugeot duo Ogier and Stephane Sarrazin for the first few stages, until the former slid off on snow placed by spectators, and the latter suffered a puncture.
That left Hirvonen with an advantage of at least 40s for most of the rest of the event, but he could not relax as Ogier mounted an incredible comeback. Having lost two minutes and dropped to eighth with his Wednesday incident, Ogier reeled off a string of dominant stage wins in the ever-changing conditions and was within 40s of Hirvonen with three stages to go.
A tense showdown looked in prospect until Hirvonen increased his pace on SS13 this evening and built his lead back up to 46s again, halting Ogier's charge and taking the pressure off going into tonight's final loop. Ogier's victory hopes then disappeared completely when he suffered an alternator failure on the road section before SS14.
"It could have been amazing - it's a shame he had a technical problem," Hirvonen said. "But then again it was a big relief for me that I didn't have to push all the way through."
Second placed Hanninen gradually lost touch with Hirvonen, as did his temporary Skoda team-mate Nicolas Vouilloz, who had a consistent run to what became third.
Sarrazin recovered to fourth despite sliding into a snow bank on Thursday morning. Fifth placed Jan Kopecky (Skoda) also had to fight back through the field, a puncture on the opening stage having put him down to 26th place.
Guy Wilks took time to get comfortable with his Skoda's handling and was a distant 10th for the first half of the rally. He advanced to fifth by the final day, but an over-conservative tyre choice this evening meant he ended up sixth. Bruno Magalhaes ran as high as fifth on his Monte debut, and eventually came home seventh for Peugeot Portugal.
Like last year, Meeke did not reach the finish of the season opener, sliding out of second place when he hit ice on Thursday's opening stage. Toni Gardemeister had a variety of dramas before having to stop with engine damage this morning, while Franz Wittmann was on course to score in his first rally with his new Peugeot 207 until he crashed out three stages from the finish.
But all of those retirees lasted longer than Formula 1 star Robert Kubica, whose Renault had an engine failure on Tuesday night's pre-rally prologue stage.
Pos  Driver                 Car        Time/Gap
 1.  Mikko Hirvonen         Ford     4h32m58.5s
 2.  Juho Hanninen          Skoda     + 1m51.4s
 3.  Nicolas Vouilloz       Skoda     + 3m19.1s
 4.  Stephane Sarrazin      Peugeot   + 7m25.5s
 5.  Jan Kopecky            Skoda     + 8m48.7s
 6.  Guy Wilks              Skoda     + 9m24.5s
 7.  Bruno Magalhaes        Peugeot   + 9m45.4s
 8.  Jean-Sebastien Vigion  Peugeot  + 13m33.5s
 9.  Jaroslav Orsak         Skoda    + 21m16.6s
10.  Andrej Jereb           Peugeot  + 25m26.1s