| | |
| --- | --- |
| Suppo exit not a blow, insists Ducati | |
| | |
| --- | --- |
| By Dieter Rencken and Matt Beer | Thursday, January 14th 2010, 15:47 GMT |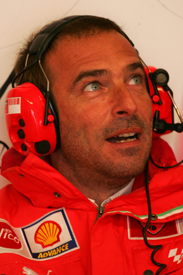 Losing former team boss Livio Suppo to Honda will not cause any problems for Ducati, according to the company's general manager Claudio Domenicali.
Suppo split with Ducati after 11 years at the end of last season and will be part of Honda's works squad from 2010. In his place, Ducati promoted former marketing manager Alessandro Cicognani to Suppo's old role as project director, and installed test rider Vittoriano Guareschi as team manager.
Domenicali believes the new management duo can easily fill the void left by Suppo - especially as Filippo Preziosi remains in charge of the technical team.
"They're going to add skills and competence within the team that was perhaps missing in the past," he said. "Of course something is going to be missing because each person has their own experience, but at the same time we have gained the experience of these other protagonists.
"Filippo Preziosi, who is the real engine of our racing activities, is still there and he is fully dedicated to his work, so I think that it is a change within continuity, if I can describe it as such.
"We have lost a bit of experience with Suppo of course. But we are going to gain with other assets. I define both Alessandro and Vittoriano as persons with whom you would like to go out for the evening, not just a working relationship.
"They are serious and competent, and people who give 110 per cent when they tackle things, but at the same time people who like to tackle things laughing and joking. To work having fun is a bit of a motto. We do this as a passion."
But Domenicali admitted that both he and Preziosi would have to take a greater role in running the team during the transition period.
"You'll be seeing myself, but particularly Filippo, at the racetracks more than in the past to compensate where potentially there could be a possibility of having to give some support," he said.
Domenicali does not believe that Honda will suddenly make progress with Suppo on board.
"Livio is an extremely experienced person but in terms of his technical skills he's not going to take much, because Suppo always dealt with marketing and team management," said Domenicali. "On technical issues I do not think that Honda is even going to need his suggestions.
"But he knows how to manage a team. I think like everyone he has pros and cons. I think that we are well organised to do well. Honda may be able to improve in some ways but may get worse in others. It's not going to lead to any major change."