Fry: F1 will improve internet coverage
| | |
| --- | --- |
| By Jonathan Noble | Thursday, December 10th 2009, 10:35 GMT |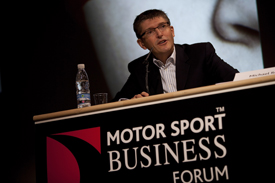 Formula 1 has been wholly guilty of not embracing fans enough through new media, but moves are being made to address the situation in time for the 2010 season.
That is the claim of Mercedes GP CEO Nick Fry, who told the Motor Sport Business Forum in Monaco on Thursday that he felt F1 supremo Bernie Ecclestone finally understood that the sport could benefit from expanding its profile on the internet.
His comments came after leading figures from the motorsport industry said that F1 was not doing enough to promote itself through new media.
"I think it is a bit of old fashioned thinking to think that by giving people more over the internet they will consume less somewhere else," said Fry. "In fact, with younger consumers and fans are actually doing both - they are not reducing their consumption of one because you are giving them more in another area. They are doing both maybe at the same time.
"I think the accusation that we have been a bit slow on new media is correct - that we could have done a lot more. But I think you might find that FOM have things they are working on at the moment that will hopefully see the light of day during the course of next year which will hopefully at least partially address that. It is a slow yes, but the point is not lost and I think things are happening."
Fry believes that the changing economic situation worldwide, and the fact that the field could no longer demand huge funding from car makers, means that a new sense of reality has arrived over improving the show.
"We are all in the same boat," he said. "I think the business model that we all have now is very similar. We have to grow F1, if we grow F1 it is good for FOM, it is good for television companies, good for people in the business, good for the teams. So we have an aligned objective.
"That is very important because in the past, we probably didn't have that aligned objective, perhaps because the teams were being funded by other sources, maybe a tobacco company or a car company, and maybe the objective was slightly different from what it was today where we have got to run hopefully a break even or even a profitable business. That is something that has changed quite dramatically over the last 18 months."
He added: "The reality of life is that we have to up our game, because our competitors have upped their game. Cricket has gone from something that was as dull as ditchwater to something that is competition for F1. It is not the main competition, but it is example of how people have raised their game.
"And we have to do likewise. We have to improve."