Martin not focusing on title fight
| | |
| --- | --- |
| By Diego Mejia | Saturday, November 21st 2009, 05:16 GMT |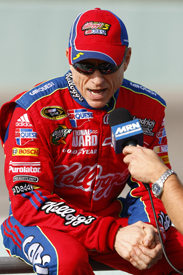 Mark Martin insists he is not focusing on chasing Jimmie Johnson for the championship heading into the season finale, and reckons his results this year have already gone beyond his own expectations.
While Jimmie Johnson could make NASCAR history by becoming the first driver to win four straight Sprint Cup titles, Mark Martin could still mathematically spring a surprise and beat his team-mate, and become the series' oldest champion at age 50.
Martin needs to overcome a 108-point gap to the reigning champion in order to beat him, while a 25th place or better will be enough for Johnson to clinch, even if Martin wins the season finale.
Nine times in 266 races they have been head-to-head, Martin has been able to gain 108 points or more on Johnson in a single race, including the final race of 2005 where Martin was second and Johnson crashed out.
However, the four-time series runner-up says he is not focusing on the points scenarios, and simply hopes to do his best on the track this weekend.
"I'm not looking over my shoulder or looking ahead, either one," said Martin. "Definitely, I'm sure that we could wind up fourth in the points, which is something no one has even considered. But I'm not thinking about that. I'm neither worried about that or Jimmie.
"I'm excited about going to work and competing in every event there, which to me a practice session is one. I try to win those, too. Every time I strap in that racecar, I'd like to be the fastest dude out there."
Martin, who came back to run a full schedule for Rick Hendrick after doing partial seasons for the past two years, reminded that the championship was not what moved him to make a return this season.
"The reason I took this deal is because I got close to winning a race or two in 2008, and I could just taste it," said Martin. "I really wanted a chance to try to win again before I wasn't able to ever experience that again. That was the motivation for me, taking this opportunity.
"It definitely has turned out to exceed my expectations. I knew that the race team would be awesome. I knew the car would be fast. I just hoped that I would be able to get the job done.
"One of my biggest goals coming into this year was just to be considered a good team-mate, to make a contribution to Hendrick Motorsports so that when the season was over everyone involved would be glad that I, you know, was a part of the organisation. That was probably as important as maybe squeaking out a win for me personally."
The former Roush Fenway racer claims this year has been the best of his life both professionally and on a personal side, regardless of whether he wins the title or not.
"I'm having lots of fun this year," said Martin. "This has been obviously the best year of my life professionally as well as personally. The personal part comes from being happy. I was a very, very happy person in 2008. But that little bit of extra performance that we have been getting on the racetrack in 2009 even made it more awesome.
"An opportunity to be around [Rick] Hendrick and all the fine people, team-mates and people at Hendrick Motorsports, has really made my life rich this year with people and with quality relationships above and beyond any other year that I can ever remember."
Mark Martin will start Sunday's season finale at Homestead from fourth on the grid, while Johnson will lead the field from pole position.