Valles: I'm still in control
| | |
| --- | --- |
| By Charles Bradley | Saturday, November 7th 2009, 17:18 GMT |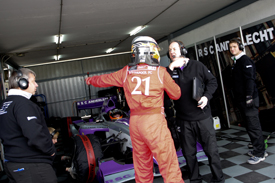 Superleague Formula title favourite Adrian Valles of Liverpool is adamant that he is calm and focused on sealing the crown in Sunday's finale at Jarama, despite his clash with a rival driver in qualifying.
Valles remonstrated with the team of Anderlecht's Yelmer Buurman after he claimed the Dutchman ruined his qualifying effort. Buurman went on to qualify on the front row.
"He came out of the pits as I was on my flying lap," said Valles. "He got in my way, and these tyres are only good for one lap. I tried again later on, but it was no good, and I got more traffic. I was mad, and I went to tell him what he was doing to me."
Buurman refuted any wrongdoing, and said: "I came out of the pits and saw him in my mirrors through Turn 1. I thought he was on a slow lap to start with, but noticed he was a bit closer at Turn 2, but still nowhere near me.
"I've looked at the video, and he's at least two car lengths behind, and then I move over and let him through. I don't think I slowed him down or anything."
Valles, who has a 49-point lead over Tottenham Hotspur's Craig Dolby, remains confident of wrapping up the title on Sunday.
"I will drive my own race," said the Spaniard. "Tottenham will start 10th, so I'd be worried if they were in the top three. I know what I have to do, and I could even afford a bad result in race one because I'd start at the front for race two."