Q & A with Fernando Alonso
| | |
| --- | --- |
| By Jonathan Noble | Sunday, November 1st 2009, 12:34 GMT |
Fernando Alonso looks unlikely to leave Renault on a high given the team's lack of pace throughout the Abu Dhabi Grand Prix weekend.
After qualifying he spoke to reporters about his feelings as he prepared to race a Renault for the last time, and his thoughts about future team Ferrari's current situation.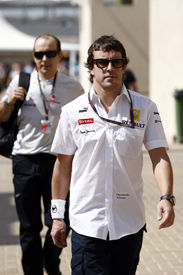 Q. You said this weekend that you felt the Renault had slipped behind Toro Rosso and Force India. Were your qualifying struggles what you expected?
Fernando Alonso: Yes. We spent all the qualifying like today - a difficult qualifying - but somehow we managed in the last three or four grands prix to get through Q1. Somehow, as well, we went into Q3 for a couple of times in the last few races. I think that was because the circuits were a little bit special – in Suzuka qualifying was almost the first dry laps all weekend. In Brazil, we know the conditions were extremely well and we were lucky on that part to be in Q3. Here, with a normal qualifying with no big surprises and a new circuit for everybody, we were out in Q1 so more or less what we expected.
Q. It would have been nice though, in your last grand prix for Renault, to have done something better, wouldn't it?
FA: Yeah for sure. It will be nice to win a race when you say bye bye to the team. But this is obviously a dream – not reality. We know where we are and we know where we are struggling. We are not competitive for the last part of the championship. I think Romain and me, we are doing our maximum always. The team knows I did 100 per cent in the last seven years with them, so it doesn't change too much what you do in the last race.
Q. Now you have had your last qualifying with Renault, is it getting emotional from your side?
FA: Yes. Obviously the closer you are to the race, and to the chequered flag, there are more and more feelings, and more emotional moments. For sure, on Saturday, when I put the overalls on, the helmet on, closed the visor and went into qualifying – it was the last qualifying and you know that. You go to the track knowing that and in the race, on the grid, or doing the interviews there, you are alone in the car when the mechanics go and you start the formation lap, I will know again that it is the last formation lap with them. It is different, but at the same time it is a nice feeling as well because I am happy, I am relaxed and I am enjoying this last race, whatever the result is.
Q. McLaren and Ferrari both had a bad start to season, but McLaren is now back on top and Ferrari did not catch up. Are you worried about next season?
FA: No. Not at all. I think both started at the back – McLaren started even worse than Ferrari but they did a very good job and now they have maybe the best car. Here, they were very dominant all weekend and in Brazil also, starting near the back, Hamilton finished on the podium. Really, it is a very quick car.
But they [McLaren and Ferrari] went with different philosophies. McLaren were pushing with some developments this year, and Ferrari did not. So next year it will be a completely new start for everybody – starting from zero. We have to wait and see which one of the two will have a better car next year.
It does not matter too much what you do in the last races. We saw with Renault last year, I finished second in Brazil – and you expect then that Renault will be very strong the following year. But we did not get the maximum this year. So every year, every first year of the championship, is a complete unknown for everybody.
Q. When will you start to become involved in developments?
FA: Not much. Unfortunately we are not engineers, we are not designers, we are drivers. So, my input, and my way to work will be when I try the car. Without driving the car it is very difficult to make any suggestions or any work. Until February, unfortunately, my input to the team and effort will be very limited. I will try to understand how the team works, and I will try also to give my maximum and prepare the winter testing in a perfect way, but much more than that will be difficult without being behind the wheel.
Q. Why do you think the Renault was such a bad car this year?
FA: I think aerodynamics are the key of this championship. It has been the key for the last years in F1. This year, with the new rules, even more. For sure, the philosophy of our car was unfortunately not good enough. Also the developments, because we cannot forget that at some races we were quite competitive. There was one period of the championship where we put some new things on the car and we were the third fastest car on the grid.
But then, as Ferrari did as well, we decided to stop the development of the car and think more to 2010, and in that case you are paying a little bit for that. Now arriving at the last race, with the same car we had for the last five months, normally you are at the back.
Q. You said earlier that Renault and Ferrari stopped development earlier, while other kept developing. Is there not enough to learn by keeping developing for next year?
FA: Well, you can always learn things – especially next year there is not a big regulation change as we saw last year. More or less it is the same in terms of aerodynamics, but with the narrow front tyre next year, with the big fuel tanks, some things on the cars will have to change. We will have to prepare the car in a different way with fuel loads for starting the race.
Until the first race next year we will not know, but I am happy that my future team stopped earlier – because I am sure there will be some benefit. Plus Renault stopped earlier, I fully understand their decision and hopefully they can have a good car next year as well.