Q & A with Johnny Mowlem
| | |
| --- | --- |
| By Matt Beer | Thursday, October 15th 2009, 13:08 GMT |
Corsa Motorsports and drivers Johnny Mowlem and Stefan Johansson knew they had a mountain to climb in 2009. Not only was the team stepping up from GT2 to run an LMP1 Zytek against the might of the factory Acura programme, but it was doing so with a unique hybrid electro-ethanol car.
Unsurprisingly, the year saw a lot of frustration, but in the Laguna Seca season finale everything came together in spectacular fashion - allowing Mowlem to go head to head with the Acuras and hold second until a wiring problem. He told AUTOSPORT what his breakthrough weekend meant to him and the team.
Q. Presumably it was a surprise to be fighting for the lead?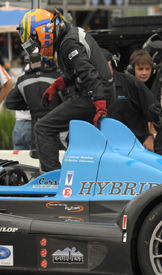 Johnny Mowlem: You can say that again - especially considering the year that we've had, and the lack of speed [up to Laguna]. There were literally about a dozen different things that contributed to us not being quick, and it wasn't all related to the hybrid, although that had some bearing on it.
The biggest problem is that so much of what we've been doing has been focused on the hybrid side of it and making sure the battery and the inverter and electric motor are all communicating correctly, that we've completely taken our eye off the ball in terms of doing any kind of work to make the car quicker.
We literally have not done a single test directed at basic set-up work. Compare that to Brabs [David Brabham] telling me he'd done 500 miles just on Nick Wirth's simulator before Petit Le Mans, trying umpteen different set-ups, it's hardly surprising that Acura are miles ahead of us. So when I actually had a chance to genuinely stick one on Brabs, I have to say it was a sweet moment.
Q. It's a very big ask for a team like Corsa to take on both Acura and new technology isn't it though?
JM: It is a big ask, and I think all of us realised we were going to be miles off this year and I knew we would never have a chance to win one.
If we had carried on at the speed we were running, I'm not saying we would have won, but there's no doubt in my mind that instead of a two car fight at the end, it would have been a three car fight. There were a couple of yellows at the end that would have squeezed us together and with the traffic it would have been elasticating between us and come down to whether we took tyres or not as to how it would have worked out.
Q. If a lack of set-up time on the car itself has held you back, would you say the hybrid side is now getting sorted?
JM: I wouldn't say it's sorted. We need another power boost, to multiply the power by about three or four times, for it to be an advantage for us. Given the extra weight, the characteristics during regen, the braking and stability issues and all the rest of it, at every circuit up to Laguna while we were still getting the car sorted, I would say the hybrid was actually a disadvantage to us. If you'd taken all the bits off and run a normal bellhousing without the electric motor, the chances are we would have been faster without it.
At Laguna, for the first time, it wasn't a disadvantage and it might have actually been a small advantage over a normal car. Bearing in mind the rule changes - and the Zytek engine guy said this made us 10km/h slower at the end of the straight than we had been this time last year - my qualifying lap was only 0.4s slower than the previous year. And it was a much less boisterous qualifying lap because the year before I'd literally been told to go for it and this year I was told 'whatever you do, don't bend anything because we literally do not have a single spare part...' If you have that in the back of your mind, you leave a little bit on the table. So to only be 0.4s off probably shows the hybrid was giving an advantage.
For it to become a proper hybrid, in the sense of say McLaren in Formula 1, although we can't use it as a push to pass button because the rules say we have to have it linked to the throttle, we need to basically improve the inverter and the battery technology. That's quite difficult because at the moment we're handcuffed to the ACO rules that say you have to use road car components.
In Formula 1 the systems are designed from the ground up to be as light and powerful as possible, whereas we're basically taking a Mercedes road car hybrid battery, sticking it in there and then trying to reprogramme it to charge and discharge eight times a lap when it's probably only charged and discharged once every 12 months in the past.
I think we showed at Laguna that we're not the idiots people thought. We got to the point where we finally proved that there is more to this than just marketing and in the future, with the right support and resources, I suspect in three or four years virtually every major manufacturer with a factory programme will be running a hybrid.
The general public at large were probably a bit sceptical about us, and we proved a big point at Laguna, which is probably why I found it so satisfying.
For the first time we really featured. Okay, we finished third at Lime Rock, but the Acuras were in a different league - we were about two and a half, three minutes behind. Whereas after two hours at Laguna, we were actually only about 10s behind the leaders, so that just shows the difference in performance.
Q. What was the problem that took you out of contention in the end?
JM: A wire rubbed on the chassis and shorted out the power steering. It was assisting in one direction, and not the other, so when Stefan came into the pits and let go of the steering wheel, it actually turned to the right on its own. Obviously it was undriveable.
I genuinely thought we were going to finish second overall as a minimum, because we were comfortably ahead of the Fernandez car, and although that's quick on a clear lap, it's the only car that's slower than us on the straight, so that was the one car I thought we could comfortably stay ahead of.
Q. Why did the team miss Petit Le Mans?
JM: We missed Petit for the simple reason that we wanted to get the car back, because the car's been flown backwards and forwards across the Atlantic about six times this year so Zytek could work on the hybrid side - it's never turned a wheel on a track in America other than at the race weekends. The team wanted to get the car back and get the crew working on it to actually understand it, because it's completely new to them as well.
That was one of the reasons why we missed Petit, and looking back that was a great decision. Not just because Petit was a bloody washout, but because we got the car to Laguna and although we had a small fuel pressure problem, I could feel straight away that the car was all sorted and a strong package.