FIA impressed by US F1's progress
| | |
| --- | --- |
| By Pablo Elizalde | Thursday, October 8th 2009, 16:01 GMT |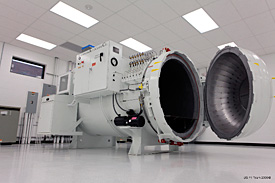 The FIA has been impressed by the work carried out by the US F1 team ahead of its debut season in 2010.
An FIA representative visited the team's factory in Charlotte in August and again earlier this week and said the American squad is progressing very well.
"I personally visited the US F1 Team in August as well as this week, and I am impressed with the progress made by the organization since the Concorde Agreement was signed in late July," Nick Craw, the FIA's deputy president for sport, told Autoweek.
"It has all come together very quickly for the team, and we welcome them into Formula 1 competition in 2010."
Team boss Ken Anderson said he was proud with what the team has achieved so far.
"We have had an open dialogue with the FIA since the team's inception in 2008, and we welcome their visits to the United States," said Anderson.
"We are proud to show them that, despite what is currently circulating in the rumor mill, our Charlotte shop is fully operational and we are well under way to construction of a unique U.S.-designed Formula 1 race car."
The team's first car is already being built at its factory and is expected to be ready to run in January.