Button: No worries about lack of running
| | |
| --- | --- |
| By Jonathan Noble and Pablo Elizalde | Friday, October 2nd 2009, 08:43 GMT |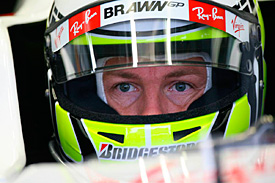 Jenson Button says he has no fears about going into qualifying for the Japanese Grand Prix without a significant amount of dry running.
"Yes. It is good," Button said about the prospect of going into qualifying with no dry running after the second practice session on Friday was a complete washout.
"There are lots of people here who have not done much running here in an F1 car, or no running at all. That is a good thing. And it makes it exciting for sure.
"You just have to hope that we can get a good balance for qualifying straight off - which is why we are doing a lot of work now to make sure that we have the balance correct for when we get out there.
"It is very difficult to balance the car in the wet, and thinking it is going to be the same in the dry. It is normally very different. That is another reason why we didn't run too much this afternoon," said the championship leader.
He added: "Straightforward is good. It is exciting, but it is also a better situation for me if we go straight into qualifying. It is exciting because it is getting out there on dry tyres, which is always very exciting around Suzuka. But, I think it is better for me if we go straight into qualifying."
The Briton, 18th in the morning session, decided not to run at all in the afternoon session.
"This afternoon was very wet with rivers and we decided to call it a day before the end of the session. But if you were doing wet running you would have run at the end of the session, for sure, if you wanted to get some more wet running done.
"You also have to be careful here because you don't get that many tyres over a race weekend, as this place uses tyres quite easily – we damage tyres quite quickly here. So if it was wet, for sure we would have done a bit more running but not much I don't think.
"But it is looking like it is going to be dry for qualifying and the race, so that is positive. For Sunday there is not the chance for rain, so it can always change for sure. We will still be okay, even if it does."