Q & A with Jenson Button
| | |
| --- | --- |
| By Stuart Codling | Friday, September 11th 2009, 16:21 GMT |
Jenson Button has seen his championship lead diminish over the past few races, and the first day of practice for the Italian Grand Prix brought mixed results.
Seventh fastest in the first session and 19th in the second, Button nevertheless insisted that the true competitive picture will not emerge until qualifying.
Q. How was the car today?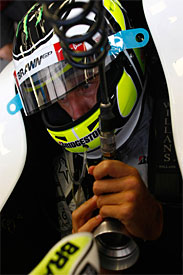 Jenson Button: We had a few issues. There were a couple of reliability things we had to keep stopping for on a lot of our long runs. We sorted them out towards the end of the day, which was good, but we weren't able to do as many long runs as we'd hoped. We did some work but I'm still not happy with the balance, so we've got a lot to do overnight and tomorrow until I'm completely happy. It's very different here, running with low downforce. Our car copes reasonably well with it, but the fine tuning is something we have to work on at the moment.
Q. How was it behaving over the new kerbs?
JB: For the first chicane we don't really use the kerbs - I don't think anyone really uses them. At the second chicane the McLarens are using a lot of kerb. We can't use it; whether that is something to do with fuel loads, I don't know. We struggled to use that kerb today, and at the moment, the way the car is, using that kerb isn't going to help us. So we're staying off it, but I think our pace is reasonably good through that second chicane.
Q. The KERS-equipped cars are gaining around four tenths a lap...
JB: Yeah, and in qualifying they'll gain another tenth because they'll use the boost before they get to the start/finish line before their qualy lap. It does help them a lot round here, but it doesn't help them in other aspects, such as weight distribution. We're in a reasonable position, I think.
The McLarens are very quick, which is pretty much what we expected. The rest of the pack – I don't know where they stand or where we stand. But our car on a long run is working reasonably well and there's some good consistency there, it's just that on out-and-out lap time there's some work we need to do.
Q. Can you realistically look at a podium finish?
JB: I don't know at the moment. I don't know how quick the car is. This place is very unusual because we normally have a lot of testing here and we try out lots of different fuel loads. We've had to cram all that into one day. So there's a big difference in fuel loads out there, which is why we don't know where we are in relation to the others. The important thing is that the car feels reasonably good, apart from a few issues such as locking at the rear.
Q. How different are you feeling from when you were 26 points clear in the championship?
JB: I'm good. The past couple of races haven't gone quite as I'd liked but I'm in a good position and looking forward to a good weekend.
Q. When you see the Red Bulls down there with you, does it help your mood?
JB: It doesn't change my mood because we don't know what fuel they're running. The McLarens have been quick all day and we can tell they have good pace from every lap they've done, but everyone else – it's impossible to say. It's not worth trying to second-guess any of it.
Q. You spoke earlier about lack of balance, and then that the rear was unstable under braking. Was that what you were referring to, or was there a balance problem during cornering?
JB: Braking is one of the areas we need to work on and there are other things, too, but the car feels reasonably good. That's the good thing. It's just a bit frustrating that we didn't get as much running as we'd have liked. I had to come in three times with issues.
Q. What sort of issues?
JB: One was to do with gearshift, one was to do with something else, and the telemetry wasn't working. We know the areas we have to look at and we know they can be fixed.