Sutil tops second practice at Monza
| | |
| --- | --- |
| By Matt Beer | Friday, September 11th 2009, 13:31 GMT |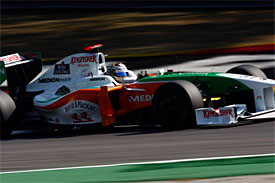 Adrian Sutil continued Force India's excellent form by topping the second practice session at Monza.
The two Renaults completed the top three, with the inexperienced Romain Grosjean impressively beating his double world champion team-mate Fernando Alonso to second place as the team remained in the spotlight off-track amid the scandal over last year's Singapore Grand Prix.
Sutil sat out the first half an hour while Force India completed an engine change, but once he hit the track the German immediately launched into a rapid series of laps that put him straight into the top five and drew him ever closer to early pace-setter Nick Heidfeld (BMW).
While Sutil was still running on hard tyres, Heidfeld had set his time on softs - and it was when the Force India man switched the softer tyres 15 minutes later that he managed to knock his compatriot off the top spot.
It was only in the final five minutes that Sutil came under threat, as a sensational effort from Grosjean saw Renault's rookie go quickest. Alonso came through to take second moments later.
Sutil failed to improve with his initial response, but split the Renaults next time around. Then he dug even deeper and came up with a 1m23.924s to secure first position by 0.239s.
The Renaults held on to second and third as Heikki Kovalainen's late improvement only got the McLaren into fourth place.
BMW remained competitive, with Robert Kubica and Heidfeld taking fifth and seventh, split by Toyota's Timo Glock, who fared much better than in the morning.
Kimi Raikkonen was eighth, while team-mate Giancarlo Fisichella was slowest of all in the second Ferrari - although he was a respectable 0.8s down on the Finn.
Kazuki Nakajima escaped a wild high-speed trip through the Parabolica gravel to take ninth for Williams. Toro Rosso's Sebastien Buemi completed a good day by finishing the afternoon in 10th, ahead of morning pacesetter Lewis Hamilton (McLaren) and Sutil's new team-mate Tonio Liuzzi.
The Red Bulls and Brawns were all in the midfield, with Mark Webber the best of the quartet in 14th despite an electrical problem sidelining him for a while. Championship leader Jenson Button only managed to beat Fisichella, taking a worrying 19th.
Pos  Driver       Team                       Time              Laps
 1.  Sutil        Force India-Mercedes  (B)  1:23.924            28
 2.  Grosjean     Renault               (B)  1:24.163  + 0.239   31
 3.  Alonso       Renault               (B)  1:24.297  + 0.373   35
 4.  Kovalainen   McLaren-Mercedes      (B)  1:24.482  + 0.558   41
 5.  Kubica       BMW-Sauber            (B)  1:24.622  + 0.698   40
 6.  Glock        Toyota                (B)  1:24.634  + 0.710   36
 7.  Heidfeld     BMW-Sauber            (B)  1:24.693  + 0.769   34
 8.  Raikkonen    Ferrari               (B)  1:24.796  + 0.872   39
 9.  Nakajima     Williams-Toyota       (B)  1:24.799  + 0.875   36
10.  Buemi        Toro Rosso-Ferrari    (B)  1:24.884  + 0.960   44
11.  Hamilton     McLaren-Mercedes      (B)  1:24.902  + 0.978   32
12.  Liuzzi       Force India-Mercedes  (B)  1:24.921  + 0.997   39
13.  Trulli       Toyota                (B)  1:24.967  + 1.043   40
14.  Webber       Red Bull-Renault      (B)  1:24.979  + 1.055   25
15.  Alguersuari  Toro Rosso-Ferrari    (B)  1:25.003  + 1.079   34
16.  Barrichello  Brawn-Mercedes        (B)  1:25.140  + 1.216   35
17.  Rosberg      Williams-Toyota       (B)  1:25.215  + 1.291   38
18.  Vettel       Red Bull-Renault      (B)  1:25.386  + 1.462   27
19.  Button       Brawn-Mercedes        (B)  1:25.424  + 1.500   32
20.  Fisichella   Ferrari               (B)  1:25.543  + 1.619   36

All Timing Unofficial