Darlington, US west coast highlight 2015 NASCAR Sprint Cup calendar
| | |
| --- | --- |
| By Mark Glendenning | Wednesday, August 27th 2014, 08:20 GMT |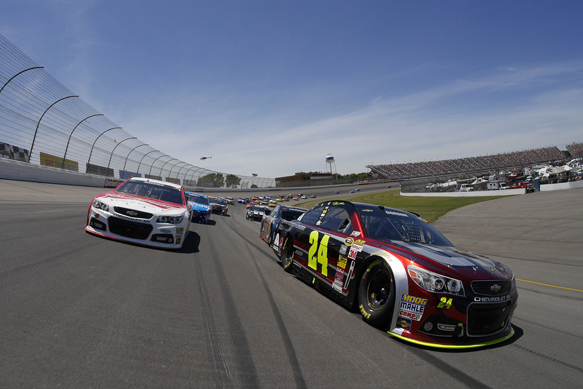 A date reshuffle for some of NASCAR's most storied events and a three-race swing through western America are the main features of the 2015 Sprint Cup schedule, which was released on Tuesday.
Darlington will return to its traditional Labor Day weekend date in early September for the first time in 11 years, while Bristol's spring race will be shuffled back a few weeks from mid-March to mid-April.

Following the season-opening Daytona 500 on February 22 and the second race at Atlanta, the series will head west to visit Las Vegas, Phoenix and Fontana on consecutive weekends in March; returning to that side of the country again in August for the road course race at Sonoma.

"I like the western swing and how they have a bigger track, short track, bigger track," said points leader Jeff Gordon.

"I haven't talked to the team about how they would possibly coordinate that, but it is possible to make sort of a western hub and bring some equipment from the shop so you don't have to go back and forth, which could be a big help."

Three weekends off have been incorporated; the final coming in late August just before the Chase begins. The season will close at Homestead on November 22.
2015 NASCAR SPRINT CUP SCHEDULE
Feb 14  Daytona International Speedway (Sprint Unlimited)      
Feb 15  Daytona International Speedway (Daytona 500 qualifying)
Feb 19  Daytona International Speedway (Duels)                 
Feb 22  Daytona International Speedway (Daytona 500)           
Mar 3   Atlanta Motor Speedway                                 
Mar 8   Las Vegas Motor Speedway                               
Mar 15  Phoenix International Raceway                          
Mar 22  Auto Club Speedway                                     
Mar 29  Martinsville Speedway                                  
Apr 11  Texas Motor Speedway                                   
Apr 19  Bristol Motor Speedway                                 
Apr 25  Richmond International Raceway                         
May 3   Talladega Superspeedway                                
May 9   Kansas Speedway                                        
May 16  Charlotte Motor Speedway (NASCAR Sprint All-Star race) 
May 24  Charlotte Motor Speedway                               
May 31  Dover International Speedway                           
Jun 7   Pocono Raceway                                         
Jun 14  Michigan International Speedway                        
Jun 28  Sonoma Raceway                                         
Jul 5   Daytona International Speedway                         
Jul 11  Kentucky Speedway                                      
Jul 19  New Hampshire Motor Speedway                           
Jul 26  Indianapolis Motor Speedway                            
Aug 2   Pocono Raceway                                         
Aug 9   Watkins Glen International                             
Aug 16  Michigan International Speedway                        
Aug 22  Bristol Motor Speedway                                 
Sep 6   Darlington Raceway                                     
Sep 12  Richmond International Raceway                         
Sep 20  Chicagoland Speedway                                   
Sep 27  New Hampshire Motor Speedway                           
Oct 4   Dover International Speedway                           
Oct 10  Charlotte Motor Speedway                               
Oct 18  Kansas Speedway                                        
Oct 25  Talladega Superspeedway                                
Nov 1   Martinsville Speedway                                  
Nov 8   Texas Motor Speedway                                   
Nov 15  Phoenix International Raceway                          
Nov 22  Homestead-Miami Speedway