Snetterton BTCC: Aron Smith wins after enthralling battle
| | |
| --- | --- |
| By Kevin Turner | Sunday, August 3rd 2014, 16:53 GMT |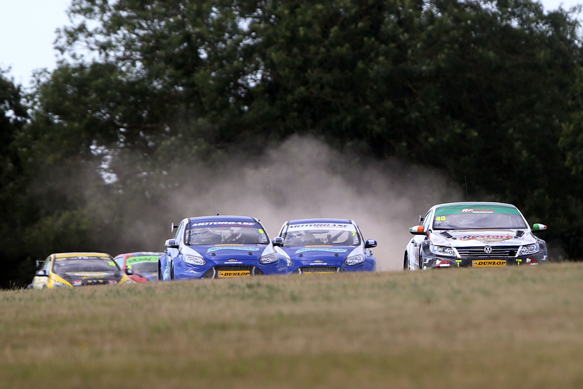 Aron Smith took his second reversed-grid victory of 2014 in the British Touring Car finale at Snetterton after an enthralling battle.

Smith's BMR Volkswagen Passat led from pole, but always had to keep an eye on his mirrors, with Fabrizio Giovanardi's Motorbase Ford Focus leading the chase for much of the race.

The pack behind shuffled constantly. Matt Neal's works Honda Civic Tourer tapped Adam Morgan's Ciceley Mercedes out the way at Agostini on lap two to move into fourth.

He was followed by championship leader Colin Turkington's WSR BMW, which then took the fight to the Honda.

Neal defended hard and, on lap seven of 12, was hit under braking for Montreal by the BMW driver. The Civic Tourer recovered but would finish outside the top 10.

Morgan tried to take advantage, but was shuffled back, allowing Turkington to close up to the lead trio of Smith and the two Motorbase Fords of Mat Jackson and Giovanardi, which had switched at the same time as the Neal-Turkington clash.

At one stage, the top eight was covered by just 2.5 seconds, with title rivals Jason Plato and Gordon Shedden chasing Turkington, and followed by Sam Tordoff's MG and Rob Collard - up from row nine.

At the front, Jackson put former team-mate Smith under huge pressure, but the VW ace held firm to take the flag by just 0.4s.

Giovanardi, unlike most of the frontrunners using the hard tyre, looked set to complete the podium until he slid off at the Bomb Hole on the final lap. As he got back up to speed he was pushed into a spin by Collard's BMW, which had already overtaken Tordoff.

Turkington thus completed the podium to extend his championship lead, followed by Plato, Shedden and Collard.
Reigning champion Andrew Jordan missed the final race of the Snetterton weekend on medical grounds.
Results - 12 laps:                                       
                                                         
Pos Driver               Team/Car                Time/Gap
 1. Aron Smith           BMR VW                24m05.815s
 2. Mat Jackson          Motorbase Ford           +0.444s
 3. Colin Turkington     WSR BMW                  +1.160s
 4. Jason Plato          MG                       +2.227s
 5. Gordon Shedden       Honda                    +2.598s
 6. Rob Collard          WSR BMW                  +3.014s
 7. Sam Tordoff          MG                       +3.586s
 8. Adam Morgan          Ciceley Mercedes         +4.428s
 9. Marc Hynes           MG                       +5.197s
10. Jack Goff            BMR VW                   +5.315s
11. Matt Neal            Honda                    +8.464s
12. Glynn Geddie         UA Toyota               +15.289s
13. Fabrizio Giovanardi  Motorbase Ford          +15.488s
14. Alain Menu           BMR VW                  +16.293s
15. Dave Newsham         AmD Ford                +17.587s
16. Aiden Moffat         Moffat Chevrolet        +19.071s
17. Tom Ingram           Speedworks Toyota       +19.457s
18. Rob Austin           RAR Audi                +27.003s
19. Lea Wood             Houseman Toyota         +33.079s
20. Hunter Abbott        RAR Audi                +39.258s
21. Dan Welch            Welch Proton            +39.877s
22. Jack Clarke          Motorbase Ford          +41.142s
23. Simon Belcher        Handy Toyota            +48.384s
24. Ollie Jackson        Welch Proton            +50.298s
25. James Cole           UA Toyota               +57.709s
                                                         
Retirements:                                             
                                                         
    Warren Scott         BMR VW                    7 laps
    Robb Holland         Rotek Audi                7 laps
    Chris Stockton       BTC Chevrolet             4 laps
    Martin Depper        Eurotech Honda            2 laps
    Nick Foster          WSR BMW                   2 laps