Red Bull Ring DTM: Augusto Farfus sets the pace in practice for BMW
| | |
| --- | --- |
| By Andrew van Leeuwen | Saturday, August 2nd 2014, 13:37 GMT |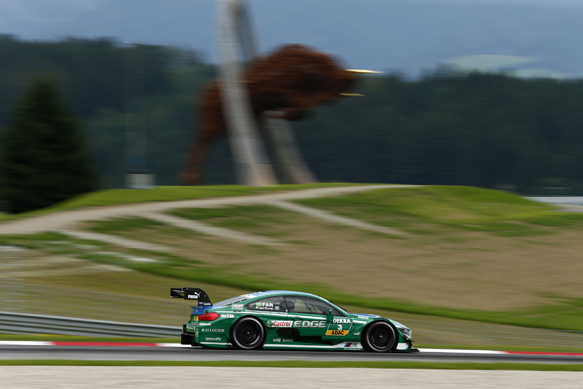 Augusto Farfus set the fastest time across the two DTM practice sessions at the Red Bull Ring.
The BMW driver jumped to the top of the timing screen seven minutes before the end of the second hour-long session with a 1m25.641s lap, only to be immediately knocked off top spot by Mercedes driver Robert Wickens.
But Farfus followed up with a string of faster laps, lowering the benchmark to an unbeatable 1m25.247s four minutes from time, more than 1.2 seconds faster than the best time he managed in FP1.
Christian Vietoris wound up being second fastest in FP2, and best of the Mercedes drivers, with a 1m25.475s effort inside the final minutes of the session.
He wasn't the only late improver - Miguel Molina also did his fastest lap right at the death to finish third.
Jamie Green finished the second session fourth fastest, despite being second fastest two minutes from the end, while Wickens wound up fifth.
BMW's Martin Tomczyk was sixth, ahead Antonio Felix da Costa, while Pascal Wehrlein capped off a much improved showing for Mercedes with eighth, making it three Mercs in the top 10.
In the first session, Moscow winner Maxime Martin was quickest for BMW with a 1m25.985s, ahead of Molina and Wickens.
However, unlike the other two, Martin could not make any serious gains in FP2, and wound up 20th fastest, having improved on his earlier time by less than six-hundredths of a second.
Still, Martin's afternoon was more productive than Paul di Resta's. The Scot's FP2 was over before he was able to set a proper lap, thanks to a trip into the barriers on the run down to the last corners.
Di Resta's HWA crew now faces a race against time to have the car fixed for Saturday evening's qualifying session.
Practice 1:                                                           
                                                                      
Pos  Driver                  Team/Car        Time        Gap     Laps 
 1.  Daniel Juncadella       Mucke Mercedes  1m25.985             27  
 2.  Robert Wickens          HWA Mercedes    1m26.133    +0.148s  30  
 3.  Mattias Ekstrom         Abt Audi        1m26.259    +0.274s  22  
 4.  Timo Scheider           Phoenix Audi    1m26.343    +0.358s  28  
 5.  Nico Muller             Rosberg Audi    1m26.369    +0.384s  28  
 6.  Jamie Green             Rosberg Audi    1m26.444    +0.459s  27  
 7.  Pascal Wehrlein         HWA Mercedes    1m26.447    +0.462s  32  
 8.  Paul di Resta           HWA Mercedes    1m26.459    +0.474s  30  
 9.  Christian Vietoris      HWA Mercedes    1m26.476    +0.491s  21  
10.  Edoardo Mortara         Abt Audi        1m26.495    +0.510s  26  
11.  Adrien Tambay           Abt Audi        1m26.563    +0.578s  27  
12.  Gary Paffett            HWA Mercedes    1m26.584    +0.599s  26  
13.  Miguel Molina           Abt Audi        1m26.612    +0.627s  31  
14.  Vitaly Petrov           Mucke Mercedes  1m26.666    +0.681s  17  
15.  Marco Wittmann          RMG BMW         1m26.689    +0.704s  26  
16.  Mike Rockenfeller       Phoenix Audi    1m26.822    +0.837s  26  
17.  Bruno Spengler          Schnitzer BMW   1m26.829    +0.844s  30  
18.  Maxime Martin           RMG BMW         1m26.858    +0.873s  21  
19.  Timo Glock              MTEK BMW        1m26.878    +0.893s  28  
20.  Antonio Felix da Costa  MTEK BMW        1m26.950    +0.965s  25  
21.  Augusto Farfus          RBM BMW         1m26.994    +1.009s  19  
22.  Joey Hand               RBM BMW         1m27.218    +1.233s  31  
23.  Martin Tomczyk          Schnitzer BMW   1m27.252    +1.267s  18  
                                                                      
Practice 2:                                                           
                                                                      
Pos  Driver                  Team/Car        Time        Gap     Laps 
 1.  Augusto Farfus          RBM BMW         1m25.247s            26  
 2.  Christian Vietoris      HWA Mercedes    1m25.455s   +0.208s  23  
 3.  Miguel Molina           Abt Audi        1m25.475s   +0.228s  25  
 4.  Jamie Green             Rosberg Audi    1m25.528s   +0.281s  23  
 5.  Robert Wickens          HWA Mercedes    1m25.571s   +0.324s  21  
 6.  Martin Tomczyk          Schnitzer BMW   1m25.573s   +0.326s  24  
 7.  Antonio Felix da Costa  MTEK BMW        1m25.583s   +0.336s  23  
 8.  Pascal Wehrlein         HWA Mercedes    1m25.586s   +0.339s  22  
 9.  Timo Glock              MTEK BMW        1m25.623s   +0.376s  25  
10.  Bruno Spengler          Schnitzer BMW   1m25.655s   +0.408s  24  
11.  Nico Muller             Rosberg Audi    1m25.666s   +0.419s  27  
12.  Daniel Juncadella       Mucke Mercedes  1m25.732s   +0.485s  20  
13.  Marco Wittmann          RMG BMW         1m25.734s   +0.487s  21  
14.  Mattias Ekstrom         Abt Audi        1m25.737s   +0.490s  23  
15.  Mike Rockenfeller       Phoenix Audi    1m25.749s   +0.502s  26  
16.  Adrien Tambay           Abt Audi        1m25.766s   +0.519s  23  
17.  Timo Scheider           Phoenix Audi    1m25.769s   +0.522s  24  
18.  Vitaly Petrov           Mucke Mercedes  1m25.868s   +0.621s  24  
19.  Edoardo Mortara         Abt Audi        1m25.880s   +0.633s  26  
20.  Maxime Martin           RMG BMW         1m25.926s   +0.679s  21  
21.  Joey Hand               RBM BMW         1m25.949s   +0.702s  26  
22.  Gary Paffett            HWA Mercedes    1m26.372s   +1.125s   9  
23.  Paul di Resta           HWA Mercedes    No time set           1