German GP: Tyres a worry in Hockenheim heat, admit drivers
| | |
| --- | --- |
| By Ben Anderson | Friday, July 18th 2014, 17:15 GMT |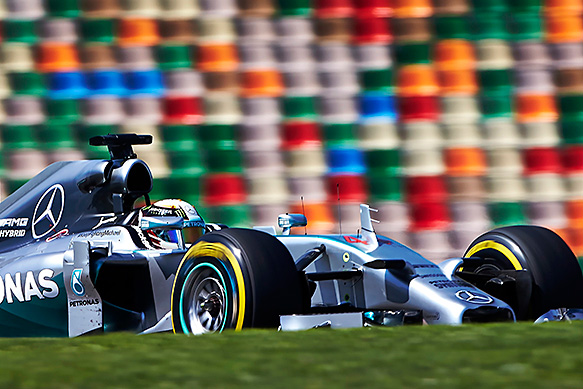 Mercedes Formula 1 driver Lewis Hamilton reckons the German Grand Prix could be the toughest race of the season for tyre management, if temperatures remain high.
The opening free practice sessions for this weekend's Hockenheim race took place in the hottest conditions of the season so far, with track temperature peaking at 58 degrees Celsius in practice two, though rain is currently forecast for Sunday.
Tyre supplier Pirelli brought its softest compounds to this race, following criticism earlier in the season that it had been too conservative with its choices, and several drivers reported severe difficulties keeping their rubber in decent shape.
Hamilton, who narrowly beat team-mate Nico Rosberg to the fastest time when the track was at its hottest, said: "The temperature's so high it's very difficult for the tyres.
"It's very hard to manage. This is probably going to be one of the hardest races to manage the tyres."
Rosberg added: "The tyres are difficult definitely, because there's a lot of degradation.
"They're very soft for this track and especially for these temperatures, so colder temperatures would help for Sunday."
McLaren's Jenson Button, who was seventh fastest in FP2 in the upgraded MP4-29, said stopping the tyres from overheating coming out of the corners was particularly difficult.
"Looking at the timesheets, you'd say we look quite good, but we're finding it a little bit tougher over the long runs," he said.
"I think we're overheating the tyres under traction. It's so difficult to manage the tyres in these temperatures, and it's especially hard to get the super-soft tyre working correctly without overheating it."
Pirelli motorsport boss Paul Hembery maintained the softest tyres were the correct choice, despite the extreme conditions.
"We wouldn't normally bring the super-soft here, but people said we'd been too conservative, so I think it will turn out to be quite a good choice in the end," he said.
"Some people are saying it's suffering. Well of course it's suffering.
"We could have come here with the soft and medium with 20 degrees less track temperature and had difficulties in the other direction with graining.
"You can never win sometimes, but we've seen no blistering on the soft tyre, and a little bit of light superficial blistering on the super-soft, depending on the car.
"In such extreme conditions we have to be pretty pleased with the choice we made."