NASCAR Sprint Cup teams form new alliance
| | |
| --- | --- |
| By Mark Glendenning | Monday, July 7th 2014, 14:09 GMT |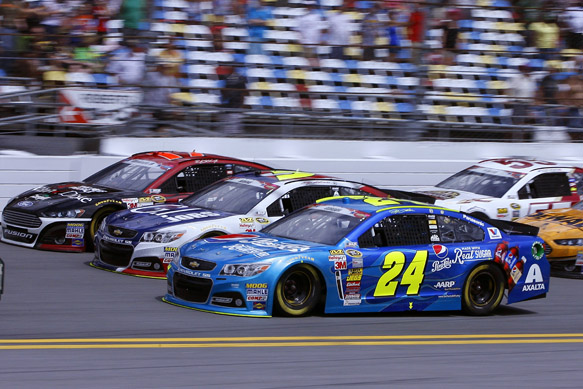 Nine of NASCAR's largest teams have formed an alliance with the aim of exploring common interests and collaborating on initiatives to promote the sport.
The Race Team Alliance organisation initially consists of Chip Ganassi Racing, Hendrick Motorsports, Joe Gibbs Racing, Richard Childress Racing, Michael Waltrip Racing, Richard Petty Motorsports, Roush Fenway Racing, Stewart-Haas Racing and Team Penske, although it says that it plans to invite all full-time Sprint Cup teams to join in the near future.
MWR co-owner Rob Kauffman, who will serve as chair of the RTA, said that the formation of the group gives structure to a previously loose collaboration.
"The teams have met in various forms and forums over the years to explore areas of common interest," he said.
"This simply formalises what was an informal group. We all have vested interests in the success and popularity of stock car racing.
"By working together and speaking with a single voice, it should be a simpler and smoother process to work with current and potential groups involved with the sport."
In addition to creating ways to develop the series, the group also plans to investigate opportunities to exploit the combined purchasing power and scale of the team operations to improve efficiencies in costs.
RTA's formation marks the first time that NASCAR's teams have been represented as a single entity to engage with the sport's stakeholders.
The series responded to the news shortly after the announcement in the form of a brief statement.
"We are aware of the alliance concept the team owners have announced, but have very few specifics on its structure or purpose," said a spokesman.
"It is apparently still in development and we're still learning about the details so it would be inappropriate to comment right now.
"NASCAR's mission, as it has always been, is to create a fair playing field where anyone can come and compete.
"Our job is to support and strengthen all of the teams, large and small, across all of our series and we'll continue to do that."